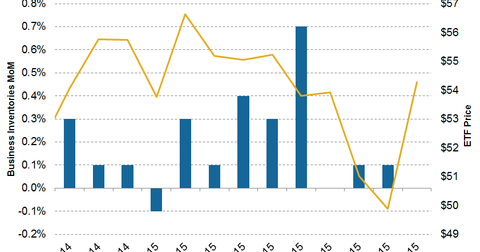 Declining Wholesale Trade Sales May See Slide in Future Inventory
By Lara Sheldon

Updated
Wholesale inventories were unchanged in October
According to the United States Census Bureau, manufacturers' and trade inventories were estimated at $1,814.5 billion at the end of October 2015, unchanged, following a downwardly revised 0.1% gain in September 2015. With a slowdown in inventories, the SPDR S&P 500 ETF (SPY) has declined 1.5% over the past month as of December 11.
In inventories, retailers have made a positive contribution of 0.1%, whereas manufacturers and wholesalers have contributed a negative 0.1% each in October 2015 on a monthly basis. For the past 12 months, trade inventories have increased 2.0% in October 2015.
For retail inventories, the positive contribution came from building material supplies, general merchandise stores, and food and beverages, which increased 1.1%, 0.3%, and 0.3%, respectively, in October 2015.
In contrast, motor vehicle and parts dealers, furniture and home furnishings, and clothing accessories contributed negatively towards trade inventories, by 0.4%, 0.7%, and 0.1%, respectively, in October 2015.
Article continues below advertisement
Wholesale trade sales increased 0.5% in September
For October 2015, wholesale trade sales were $1,317.7 billion. They were down 0.2% in October from the previous month and fell 2.7% from a year ago. The SPDR S&P Retail ETF (XRT) has declined 1.4% as of December 11. XRT has lost 6.1% from a year ago. Shutterfly (SFLY), Pep Boys (PBY), O'Reilly Auto Parts (ORLY), and Netflix (NFLX) fell by 2.6%, 1.7%, 2.9%, and 3.3%, respectively, as of December 11.
While wholesaler and retailer sales were unchanged from September, manufacturer sales fell by 0.5% in October, compared with a decrease of 0.3% in September 2015. Whereas the October 2015 inventory-to-sales ratio stood at 1.4, the ratio was 1.3 in October 2014.
With order book and production levels remaining muted in October, manufacturers are cautious about maintaining huge inventory levels. Also, declining sales may further weaken business sentiment in the economy.
For more analysis, read Import and Export Prices Fell on Lower Fuel Prices in November. For the latest updates on the economic front, refer to our Global ETF Analysis page.