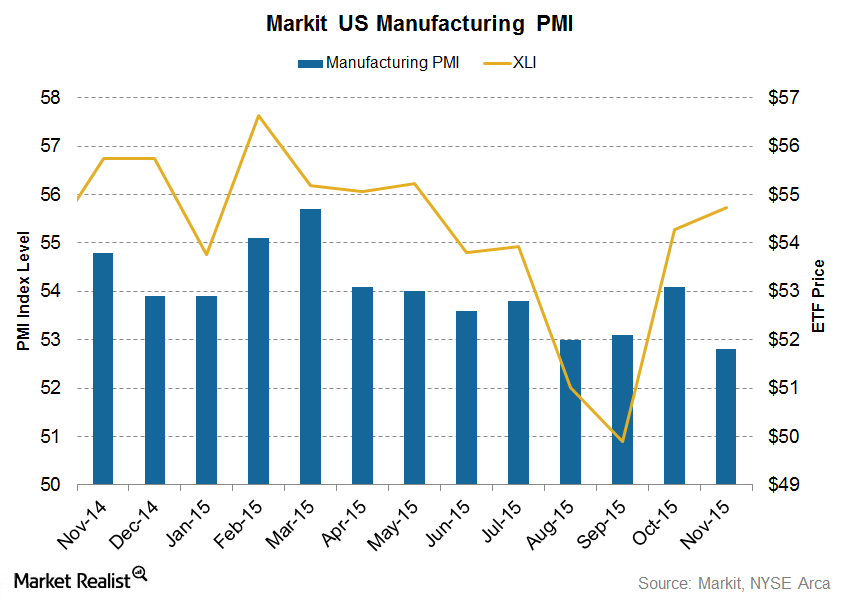 Declining Export Orders, Production Levels Slowed US Manufacturing
US manufacturing PMI fell to 52.8 in November
The US economy contributes about 25.2% toward the global GDP, and the manufacturing sector accounts for one-tenth of the country's economy. According to Markit, the US manufacturing PMI (purchase managers' index) fell to 52.8 in November, a decline of 1.3 points from October's reading of 54.1. This is one of the weakest readings since October 2013.
With manufacturing staying at a subdued level, the Industrial Select Sector SPDR ETF (XLI) and the SPDR Dow Jones Industrial Average ETF (DIA) may be impacted negatively. Also, industrial stocks such as Expeditors International of Washington (EXPD), Entergy (ETR), and Rockwell Automation (ROK) may see negative price returns with declining order books and production levels.
Article continues below advertisement
Export orders were weak in November
New order books softened in November, with low confidence among clients and a decline in export orders—its first decline since August. With the dollar strengthening, export orders declined in November. Also, the overall poor global economic condition has added to the wariness of American manufacturers.
Output, new orders, and employment all expanded at slower rates
While output growth moderated in November, manufacturers are not seeing any pressure on their operating capacities. Also, manufacturers lowered their stocks of finished goods, with post-production inventories decreasing for the fourth straight month.
With a global slowdown and declining demand, manufacturers were cautious about hiring in November. With a less upbeat assessment of the near-term client demand, the latest rise in payroll numbers was limited in the manufacturing sector.
With subdued levels of new orders in November, manufacturers were cautious about holding stocks of finished goods and raw material inventories.
Cost burdens fell for the 3rd straight month in November
With the decline in commodity prices and lower transportation costs, cost inflation continued to fall across the manufacturing sector in November. The month's decline in manufacturing may influence the policymakers' decision to hike rates at the FOMC's (Federal Open Market Committee) December meeting.
In the next article, let's look at the growth of manufacturing activity in the Eurozone.