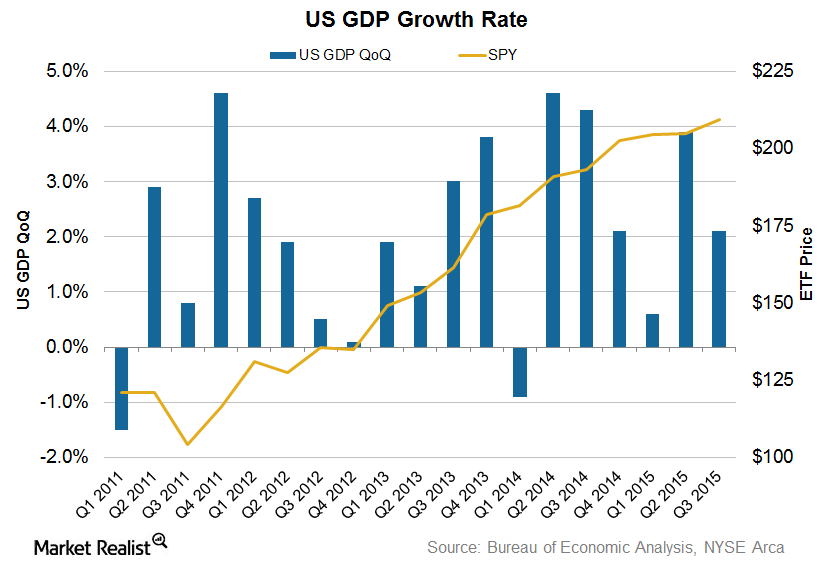 Consumer Spending May Drive US Economy to Grow at 2.5% in 2016
Consumer spending boosted economic growth
The US economy contributes about 25.2% towards global GDP (gross domestic product). In 3Q15, the US (SPXL) economy grew at an annualized rate of 2.1% with an increase in consumer spending. Consumer spending (XLY) accounts for about 70% of the US GDP. As per the latest data, consumption expenditure rose 0.1% in October, whereas personal income rose 0.4%. Though income is rising, the consumption pattern is still sluggish due to a cautious approach from US consumers.
US consumers are worried about slow growth in manufacturing, low inflation, and weak wage growth.
Article continues below advertisement
Manufacturing continues to slow down in November
The industrial output (XLI) has fallen 0.6% on a month-over-month basis in November with a decrease in mining and utilities. Even manufacturing output has increased a mere 0.9% in November as compared to 1.9% in the previous month.
Industrial production and manufacturing output are declining with a decrease in the order book and production levels. Recently released Markit Flash US Manufacturing PMI (purchasing managers' index) dropped to 51.3 in December from 52.8 in November 2015.
As a result, stocks such as Expeditors International of Washington (EXPD), Entergy (ETR), and Rockwell Automation (ROK) fell 7.8%, 0.73%, and 3.6%, respectively, as of December 21 over the past month.
Dollar appreciation is hurting foreign trade
The US dollar (UUP) has appreciated against major world currencies. The strengthening dollar is affecting export orders. Further, the slowdown in China and other emerging economies (EEM) (VWO) is further impacting the order book. The US trade deficit widened to $43.9 billion in October as exports fell 1.4% on account of the strong dollar. With moderate factory activity, the wage growth is also slower at 3.7%.
As manufacturing and foreign trade are slowing down in the US, let's take a look at the housing sector and consumer spending details in the next article to see whether they will help the economy regain strength in the next year.