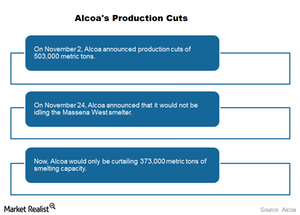 Conflicting Signals from China Leave Alcoa Investors Guessing
Conflicting signals from China
There have been conflicting signals coming from China (FXI). According to a Bloomberg report dated November 19, citing the Sino-Russian protocol on energy cooperation that was signed on November 16, China would bring "aluminum output into line with demand." However, recent reports suggest that China might buy 1 million tons of aluminum from domestic smelters.
Article continues below advertisement
Chinese aluminum industry
Now, these are totally conflicting signals on what China plans to do with its domestic aluminum industry. The output cuts, if they happen, suggest that China wouldn't be bailing out domestic smelters. If China bought aluminum from domestic smelters, it would be viewed as a bailout for the country's aluminum industry. Buying aluminum from the domestic smelters might not help aluminum's cause either. A state bailout might keep Chinese smelters running despite a lot of them making losses at the current prices.
You can also consider the Materials Select Sector SPDR ETF (XLB) to get diversified exposure to the materials sector. Currently, Alcoa forms 2.3% of XLB's portfolio.
Previous cuts
China's Chinalco (ACH) announced production cuts of 530,000 tons in October. However, according to a Wall Street Journal report citing Nomura, Chinalco will be cutting production by only 150,000 tons. The local government decided to subsidize the smelter's power supply. More Chinese smelters could receive state subsidies in a bid to prevent job losses.
Meanwhile, even Alcoa decided to keep its Massena West smelter running after it received state subsidies. The above chart shows the timeline of Alcoa's production cuts.
Aluminum producers including Alcoa (AA), Century Aluminum (CENX), Norsk Hydro (NHYDY), and Rio Tinto (RIO) have been negatively impacted by aluminum oversupply resulting from rising Chinese exports. In the next part, we'll explore how much aluminum China exported in November.