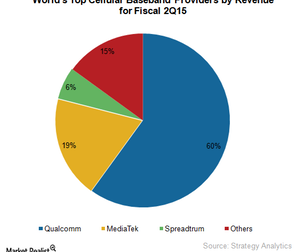 Competition Picks Up for Qualcomm
By Puja Tayal

Updated
Competition for Qualcomm
In the last article, we saw that Qualcomm (QCOM) is well positioned in the mobile chipset market with no strong competition from any one large company. However, over the past few years, the company's market share has fallen from 95% in 2013 to 60% in calendar 2Q15, according to Strategy Analytics.
Qualcomm competes with MediaTek on low and mid-end phone processors. It competes with Samsung (SSNLF) and Apple (AAPL) on high-end phone processors.
Article continues below advertisement
Qualcomm vs. MediaTek
Qualcomm and Taiwan's (EWT) MediaTek compete in the market of ARM-based commodity processors used in low and mid-end phones. MediaTek has grown aggressively in the LTE (Long-Term Evolution) chipset market, which accounts for ~40% of its total sales volume. However, the company is suffering a financial setback since its new technology is a year behind Qualcomm's technology, according to Nomura analysts. Qualcomm's chips are smaller than MediaTek's, giving Qualcomm a cost advantage while affecting MediaTek's profit margins.
Qualcomm's next-generation Snapdragon 820 processor is based on proprietary CPU (central processing unit) and GPU (graphic processing unit) designs, giving it an edge over MediaTek in mid-end phones.
Qualcomm vs. Intel
Intel (INTC) has been struggling to make its mark in the mobile chipset space. The company's contra-revenue program failed to make an impact and instead led to a $4.2 billion loss in fiscal 2014. The company's smartphone processor, the Atom X3, is based on CPU capability and is a 3G (third-generation) modem. It's inferior to ARM processors of the Cortex A57 class. Intel's Atom X5 and X7 processors manufactured on a 14nm (nanometer) process are still not competitive with Apple A9 and Samsung's Exynos 7420 ARM processors.
Intel is also lowering its spending in the mobile segment, indicating its reduced interest in expanding in this space. So Intel isn't any real competition for Qualcomm.
Qualcomm vs. Samsung
Samsung's Exynos 8 SoC (system on chip) could give tough competition to Qualcomm. However, Samsung isn't interested in selling its higher-end SoCs to other phone makers in order to avoid cannibalization of its own smartphone sales.
If Samsung decides to offer its older Exynos 7420 to other phone makers, it may become Qualcomm's potential competitor. However, Exynos 7420 doesn't compete with Qualcomm's Snapdragon 820 in terms of performance, thus limiting the competition.