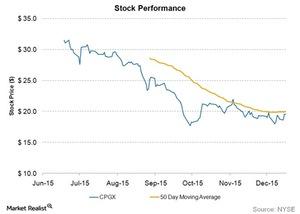 Columbia Pipeline Group Trades Close to Its 50-Day Moving Average
By Rekha Khandelwal, CFA

Nov. 20 2020, Updated 4:36 p.m. ET
CPGX trades 2% below 50-day moving average
Columbia Pipeline Group (CPGX) is trading 2% below its 50-day moving average. The stock has traded below its 50-day moving average since the end of August 2015, except for a temporary breach on November 3—the day CPGX announced its 3Q15 results. The stock closed 4% higher that day, only to fall again the next day, following crude oil prices.
Meanwhile, the company has announced 41% year-over-year EBITDA (earnings before interest, tax, depreciation, and amortization) growth and reaffirmed its targets of annual average EBITDA and dividend growth rates through 2020 of 20% and 15%, respectively.
Article continues below advertisement
Separation from NiSource
The above graph shows Columbia Pipeline Group's stock price as of mid-December, along with its 50-day moving average. According to the graph, CPGX has fallen 38% since listing. Columbia Pipeline Group separated from NiSource (NI) in June 2015 and began trading as a separate company on July 2, 2015.
Columbia Pipeline owns a 46.5% interest in Columbia Pipeline Partners (CPPL). It controls CPPL through ownership of its general partner.
Columbia Pipeline Group is engaged in regulated gas transportation and storage services for local distribution companies, marketers, producers, and industrial and commercial customers. The regulated services are performed under a tariff at rates subject to FERC (Federal Energy Regulatory Commission) approval. The company's unregulated businesses include midstream services, including the gathering, processing, compression, and development of mineral rights positions.
Columbia Pipeline Group's ETF exposure
Columbia Pipeline Group (CPGX) makes up ~2.3% of the Guggenheim S&P 500 Equal Weight Energy ETF (RYE), which tracks the S&P 500 Equal Weight Energy Index. CPGX also forms ~0.6% of the Energy Select Sector SPDR ETF (XLE), an ETF of top US energy sector companies.
In this series, we'll analyze Columbia Pipeline Group's price targets, its various businesses, its leverage, capital expenditure, and dividend growth. We'll also analyze its valuation relative to peers. Finally, we'll analyze the key drivers of CPGX's stock price.
But first, let's look at Columbia Pipeline Group's guidance for fiscal 2015—and how close the company looks to be.