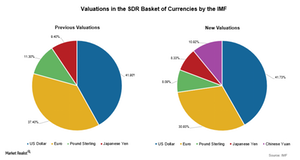 Chinese Yuan Gets IMF Nod on Special Drawing Rights Inclusion
By David Meyer

Dec. 1 2015, Updated 1:48 p.m. ET
Chinese yuan now a reserve currency
The Chinese yuan has been included in the elite SDR (special drawing rights) basket of currencies by the IMF (International Monetary Fund). This underscores China's economic and financial strength globally.
The basket currently holds four other currencies: the US dollar, the euro, the pound sterling, and the Japanese yen. The move is expected to make the yuan more attractive in financial trade, which has been possible through a number of Chinese reforms:
easier access to Chinese foreign exchange markets
higher frequency of debt issuance
longer hours of trading
IMF chief Christine Lagarde expects the reforms to continue and the PBOC (People's Bank of China) to continue working toward economic stability and promoting growth.
Article continues below advertisement
World markets gain on IMF move
World equity markets gained on Monday, November 30, 2015, following the IMF's decision. The decision reflects the rising importance of the Chinese economy on a worldwide basis and the crucial factor the yuan plays in global trade.
The Chinese yuan, pegged with limited volatility on a central value, rose 0.05% on November 30, 2015. Earlier in November, the PBOC allowed direct conversion of the yuan to the Swiss franc, pushing its case toward a reserve currency status.
Impact on the market
ETFs were trading on a positive trajectory on November 30, 2015. The iShares China Large-Cap ETF (FXI) rose 1.4%, while the iShares MSCI China ETF (MCHI) rose 1.1%.
Chinese ADRs (American depositary receipts) also ended on a mixed note. China Southern Airlines (ZNH) was trading higher by 1.5%. Sinopec Shanghai Petrochemical (SHI) ended higher by 0.8%, while Yanzhou Coal Mining (YZC) fell by 1.5%.