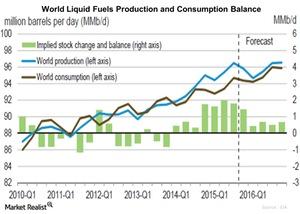 How China's Slowing Crude Oil Demand Could Affect Crude Oil Market
By Manu Milan

Updated
Global crude oil production
The EIA (U.S Energy Information Administration) has stated that global oil production continues to exceed demand, which is leading to inventory builds. Global inventory builds have averaged 1.8 MMbpd (million barrels per day) in 2015. The EIA expects inventory builds will slow in the fourth quarter to average 1.6 MMbpd. It expects that inventory builds will slow further in 2016 to an average of 0.6 MMbpd.
Article continues below advertisement
Global crude oil consumption
The EIA expects global crude oil demand to grow by 1.4 MMbpd in 2015 and 2016 from 92.4 MMbpd in 2014. Global crude oil demand depends on economic activity. Growth drives demand, and higher growth means higher demand for energy. GDP growth also determines energy demand, so energy investors should look at GDP estimates. The EIA projects global GDP growth rates of 2.3% in 2015 and 2.6% in 2016.
China needs less energy
In its World Energy Outlook, the IEA (International Energy Agency) stated that China's transformation into a less energy-intensive nation affects crude oil prices. China is one of the largest importers of crude oil, and its imports have been gradually decreasing over the last 13 weeks. However, this doesn't mean China's economy is slowing down. It indicates China is transitioning to an energy-efficient model.
Global crude oil production is almost 0.5–2.0 MMbpd more than required, and OPEC's reluctance to cut production has resulted in a global crude oil oversupply. As countries become less energy-intensive, demand for oil is dropping, creating more hurdles in the global market.
Effects of China's transition to an energy-efficient model
China's transformation into an energy-efficient nation will decrease domestic consumption. If oil production levels are maintained, inventory will grow, resulting in falling oil prices. Lower prices affect the profitability of crude oil producers such as Anadarko Petroleum Corporation (APC), ConocoPhillips (COP), Chevron Corporation (CVX), and Murphy Oil Corporation (MUR).
Energy investors can invest in these companies through the Energy Select Sector SPDR Fund (XLE). These companies account for ~16% of XLE.