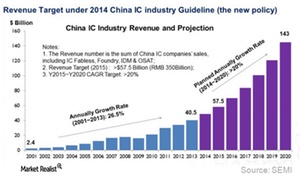 China Gaining Position in the Global Semiconductor Market
By Puja Tayal

Updated
China's position in the global semiconductor market
In the previous article, we saw that Taiwan appeared set to outgrow the global semiconductor industry in 2016. However, Taiwan faces tough competition from China (FXI) as the latter slowly emerges onto the semiconductor stage. According to the International Trade Administration (or ITA), China represents 27% of the world's floor space for semiconductor packaging and testing. It's also the largest consumer of semiconductors, accounting for more than 50% of global consumption. China relies on exports to meet 91% of its semiconductor needs.
The ITA forecasts China's semiconductor consumption to grow 10% every year, going to $203 billion in 2016 from $168 billion in 2014. The growth could be driven by a rise in the manufacturing of consumer electronics, automobiles, as well as medical and healthcare electronics in China.
Article continues below advertisement
China's IC development plan
China is looking to become self-sufficient in all areas of the IC (integrated circuit) supply chain by 2030. The country aims to grow its domestic semiconductor industry at a compounded annual rate of 20% to $143 billion by 2020.
However, it faces strong entry barriers in terms of technology and innovation, as well as strong competition in a maturing industry. Hence, the country resorted to acquiring companies in the United States and Taiwan, as well as inviting semiconductor companies from across the globe to build fabrication facilities (or fabs) in the mainland.
China's acquisition spree
China's weak IP (intellectual property) protection has long been a cause of tension between it and the United States. This also adversely affected semiconductor business between the two. For example, the United States rejected Tsinghua's offer to acquire Micron (MU) over security concerns. Also, Micron acquired a 100% stake in Inotera to protect its IP from Chinese investors. In addition, Chinese legislators charged US-based Qualcomm (QCOM) for antitrust issues.
In Taiwan, Tsinghua Unigroup agreed to acquire three local chip packaging companies, raising opposition from politicians and academics. However, Taiwan's government will decide on whether or not to relax some rules on this front by May 2016.
Is China an ideal location to build fabs?
China introduced several tax benefits to make a conducive environment for fab construction. Many semiconductor companies, such as TSMC (TSM), Intel (INTC), and Samsung, announced plans to build fabs in China. This could result in China's spending on fab equipment to rise by 9.1% YoY to $5.3 billion in 2016 according to Semiconductor Equipment and Materials International (or SEMI).