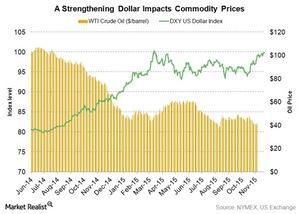 How China Could Affect the US Dollar: Must-Know Outlook
The US dollar is strengthening
We've seen the US Fed backing off from hiking rates this year, citing the strengthening dollar as a key reason. But the US dollar is still strengthening. The PowerShares DB US Dollar Bullish ETF (UUP) is up 10.7% from a year ago. The DXY US Dollar Index has gained about 13%.
Article continues below advertisement
Dollar-denominated debt at risk
While the strengthening dollar is affecting the industrial sector, as US exports are becoming less competitive in the world markets, it's also affecting the value of dollar-denominated debt issued outside the United States (QQQ) (SPY) (IVV). With the dollar gaining strength, the credit risk attached to this debt will rise as repayments become more and more difficult.
Since there's over $9 trillion in this kind of debt outside the United States, the markets could see a major debt crisis brewing if the dollar continues its upswing, along with devaluation and depreciation in other economies.
A rate hike would mean the Fed sees the US economy's macroeconomic indicators as improving and on the right track. This could trigger the dollar to rise further. A stronger dollar would be bad for commodities, US exports, and multinationals' earnings.
Slowdown in China could affect the dollar further
Meanwhile, commodity prices are at a 13-year low. The Thomson Reuters/CoreCommodity CRB Commodity Index is lower than it was during the financial crisis. Crude oil has slid from over $100 to under $50 per barrel over the past 1.5 years (see the chart above). A lot of this weakness in the commodity space is due to the global economic slowdown, especially in China. China (FXI) (YINN) is the world's largest commodity consumer. A drop in industrial activity in China directly affects the aggregate demand for commodities. The United States, which is a big player in exporting commodities, could be affected in this kind of scenario.
Gundlach believes the dollar will remain influenced by China. If China's growth remains muted and the Fed hikes rates, the dollar would definitely rise. The stronger dollar has already been affecting net profit margins for many S&P 500 companies. The situation has worsened, which could predict a recession.