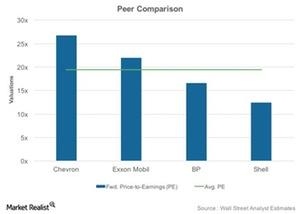 Chevron's Forward Valuations Are above the Peer Average
By Maitali Ramkumar

Jan. 1 2016, Updated 9:05 a.m. ET
Peer comparison
In the earlier part, we discussed Chevron's (CVX) historical valuation trend. In this part, we'll consider CVX's forward valuations compared to its peers. Before we go ahead with peer comparison, let's consider the market cap (or capitalizations) of integrated energy companies. Chevron's (CVX) market cap stands at $170 billion. Its peers BP (BP) and Royal Dutch Shell (RDS.A) have lower market caps standing at $92 billion and $139 billion, respectively. The market cap of ExxonMobil (XOM) is the highest, standing at $324 billion.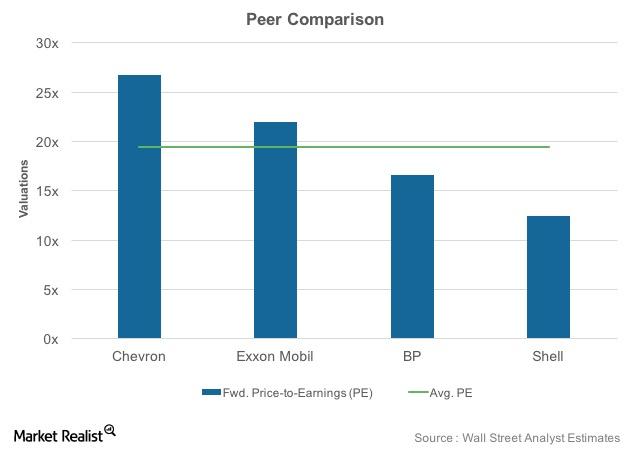 Article continues below advertisement
CVX's forward valuations
CVX is now trading at a forward PE (price-to-earnings ratio) of 26.7x, and above its peer average of 19.4x. ExxonMobil (XOM) is also trading above the average PE. BP (BP) and Royal Dutch Shell (RDS.A) are trading below the average. A low oil price outlook is pressuring the expected earnings of integrated energy companies and raising their forward valuations.
Oil's price is trading below $40 per barrel, hovering near its 11-year lows. The price is expected to remain subdued in 2016. As per the EIA[2. U.S. Energy Information Administration], WTI's (West Texas Intermediate) price is expected to average $56 per barrel in 2016, lower than its level in 2015.
Both EV (or enterprise value) and EBITDA[2. Earnings before interest, tax, depreciation, and amortization] are subject to change. EV experiences market volatility and EBITDA changes due to a varying business environment. Usually, sinking oil prices shrink EBITDA levels of integrated energy firms, and vice versa. So, the EV-to-EBITDA ratio captures the market sentiment as well as the operating performance of an integrated energy company.
Chevron (CVX) is currently trading at the forward EV-to-EBITDA ratio of 7.4x. This is close to the EV-to-EBITDA ratio of ExxonMobil (XOM), standing at 7.6x. If you're looking for exposure to integrated energy companies, you can consider the Vanguard Energy ETF (VDE). The ETF has 38% exposure to integrated energy sector stocks.