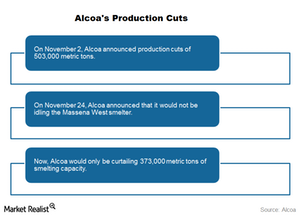 Century Aluminum Follows Alcoa, Rolls Back Proposed Curtailment
By Mohit Oberoi, CFA

Updated
Production curtailment
Century Aluminum (CENX) announced the continued operations of its Sebree smelter in Kentucky. Previously, the company had announced the idling of one of the potlines in this smelter by the year's end. The idling would have reduced the output from the smelter—with a name plate capacity of 210,000 metric tons— by a third. Apparently, this is the second instance in the last one month where a US (DIA) smelter has rolled back its proposed curtailment.
Article continues below advertisement
Alcoa's curtailment roll back
On November 2, Alcoa (AA) announced production cuts of more than 500,000 metric tons. However, on November 24, the company announced that it wouldn't be idling the Massena West smelter. So, Alcoa would be curtailing only 373,000 metric tons of smelting capacity in the United States.
According to a Reuters report, citing New York Governor Andrew Cuomo, "The state's power authority will provide $30 million in power assistance, and New York's Economic Development Commission will provide $38.8 million in capital and operating expenses to modernize the plant." State support has helped Alcoa keep the Massena West smelter running despite weak aluminum prices.
Electricity costs
Getting power at competitive prices is key for aluminum smelters, especially when market conditions are as challenging as they currently are. Electricity costs make up almost a third of aluminum's production costs. That's why most aluminum companies, including Rio Tinto (RIO) and Norsk Hydro (NHYDY), have captive power plants to fulfill their electricity requirements.
However, Century Aluminum has not received any state support to keep its Sebree smelter running. Also, the Sebree smelter already gets power at competitive market-linked prices. So, what prompted the company to keep the smelter running? We'll discuss this in the coming parts of this series.