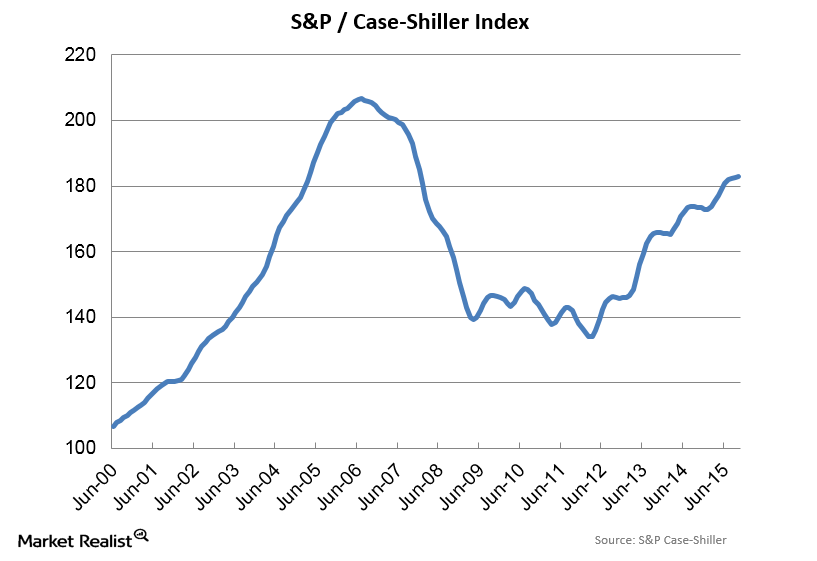 Case-Shiller Index of Home Prices Continued to Rise in October
By Brent Nyitray, CFA, MBA

Dec. 30 2015, Updated 9:48 a.m. ET
Real estate professionals watch Case-Shiller
The Case-Shiller Index is the most widely quoted index of real estate values. You could consider it the Dow Jones Industrial Average of home price indices.
Keep in mind as well that real estate values are big drivers of consumer confidence and spending, and so they have an enormous effect on the economy.
Article continues below advertisement
An underwater drag
The phenomenon of "underwater" homeowners—those who owe more than their mortgage is worth—has been a major drag on economic growth. Underwater homeowners are reluctant to spend, and they can't relocate to where the jobs are. So real estate and mortgage professionals watch the real estate indices closely. Note that an alternative home price index—the FHFA House Price Index—has recouped all of the losses from the bubble years.
Real estate prices are also a big driver of credit availability in the economy. Mortgages and loans secured by the real estate market are major risk areas for banks. When real estate prices start falling, banks become conservative and hold reserves for losses. Conversely, increasing real estate prices make the collateral worth more than the loan, which encourages banks to lend more.
Article continues below advertisement
House prices have risen faster than incomes
The seasonally adjusted Case-Shiller Index rose by 0.8% month-over-month and is up by 5.5% year-over-year. Since home prices bottomed out, we've had a couple of years of low double-digit returns in prices. Historically, incomes and house prices have correlated very closely.
Once the real estate bubble began inflating in 2000, house prices broke out of their historical range of 3.2x–3.6x incomes. They peaked at 4.8x, fell to about 3x at the bottom, and have now rebounded to 4.4x. This means home price appreciation will have to be driven more by wage growth going forward.
Home prices are not of huge importance to agency REITs (real estate investment trusts) like Annaly Capital Management (NLY) and American Capital Agency Corporation (AGNC) because these funds invest in mortgage-backed securities that are guaranteed by the federal government.
However, home prices are extremely important to non-agency REITs like Newcastle Investment Corporation (NCT) and Redwood Trust (RWT). Investors interested in trading the mortgage REIT sector via an ETF should look at the iShares Mortgage Real Estate ETF (REM).