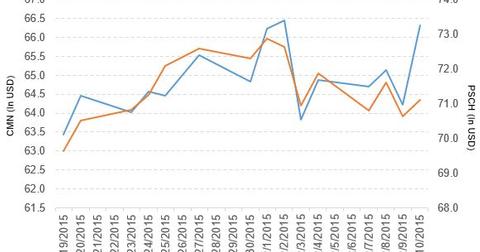 Cantel Medical's Revenue and Income Rise in Fiscal 1Q16
By Gabriel Kane

Dec. 11 2015, Published 12:03 p.m. ET
Cantel Medical's price movement
Cantel Medical (CMN) has a market cap of $2.8 billion. Its YTD (year-to-date) price has been rising quarter-over-quarter in calendar 2015. After the fiscal 1Q16 earnings report, CMN rose by 3.3% to close at $66.32 per share as of December 10, 2015. The price movement on a weekly, monthly, and YTD basis is 3.9%, 4.1%, and 53.6%, respectively.
At times, the stock has broken the support of its 20-day and 50-day moving averages in 2015. Currently, CMN is trading 3.7% above its 20-day moving average, 10.2% above its 50-day moving average, and 26.2% above its 200-day moving average.
The PowerShares S&P SmallCap Health Care ETF (PSCH) invests 2.8% of its holdings in Cantel. The ETF tracks a cap-weighted index of small-cap healthcare companies taken from the S&P SmallCap 600 index. The YTD price movement of PSCH is 18.2% as of December 9, 2015.
Cantel Medical's competitors and their market caps are as follows:
Article continues below advertisement
Cantel Medical's performance in fiscal 1Q16
Cantel Medical reported fiscal 1Q16 net sales of $153.8 million, a rise of 12.4% over its net sales of $136.8 million in fiscal 1Q15. The company's cost of sales as a percentage of sales fell by 3.6%, and in 1Q16, its operating income rose by 25.3% over the last year.
The company's net income and EPS (earnings per share) rose to $14.3 million and $0.34, respectively, in fiscal 1Q16, compared with its net income and EPS of $11.2 million and $0.27, respectively, in fiscal 1Q15. It reported adjusted EBITDAS (earnings before interest, tax, depreciation, amortization, and stock-based compensation) and adjusted diluted EPS of $32.4 million and $0.41, respectively, in fiscal 1Q16, a rise of 19.1% and 20.6%, respectively, over the last year.
Meanwhile, the company's current ratio and debt-to-equity ratio rose to 2.69 and 0.62, respectively, in fiscal 1Q16, compared with a current ratio and debt-to-equity ratio of 2.66 and 0.43, respectively, in fiscal 4Q15. The company has appointed David Rosen as president of Asia Pacific and Emerging Markets.
The company has declared a cash dividend of $0.06 per share on its common stock. Also, it has acquired Medical Innovations Group for a purchase price of $79.5 million in cash consideration.
Article continues below advertisement
Company comments
According to Andrew Krakauer, Cantel's CEO (chief executive officer), "all three of our major business units including Water Purification and Filtration and Healthcare Disposables, in addition to Endoscopy have greatly benefited from further investments in new product development, sales and marketing programs and the integration of recent acquisitions." He went on to add that "we reported six weeks of sales this quarter from our newly acquired United Kingdom based Medical Innovations Group Holdings Limited business. We are pleased that sales in this leading global provider of endoscope storage and transport systems are exceeding our expectations."
About Cantel Medical
Cantel Medical delivers infection prevention and control products and services for patients, caregivers, and other healthcare providers. Its products include medical device reprocessing systems for endoscopy and renal dialysis, advanced water purification equipment, disinfectants and cleaners, dialysate concentrates, and hollow fiber membrane filtration and separation products.