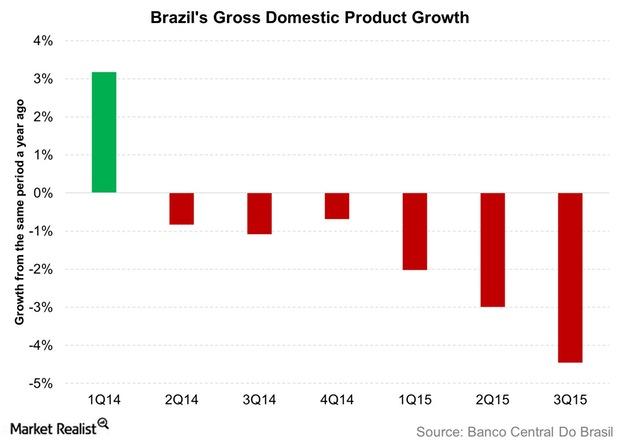 Brazil's Recession Is the Worst in Years
Brazil's economic growth
The last time Brazil's economy was growing on a year-over-year basis was in 1Q14. Since then, its GDP (gross domestic product) has fallen in each quarter. In fact, for 3Q15, the country's economy contracted by 4.5%, the sharpest contraction since the new GDP calculation system was instituted in 1996.
On a quarter-over-quarter basis, economic output contracted 1.7% in 3Q15. This was the third successive contraction. Brazil's economic growth, by this measure, stood at 0.1% in 4Q14. It was anemic, but growing nonetheless. Since then, the country's GDP has contracted in every quarter compared to the previous one.
Returning to comparable numbers from one year ago, among the crop and livestock, industry, and services sectors, the industry sector contracted the most at 6.7%.
Article continues below advertisement
What's next?
Emerging markets have generally had a hard time in 2015. China is experiencing a slowdown, India is yet to go full throttle on its reforms agenda, and Russia is facing political friction with several countries, which is hurting its economic growth.
However, Brazil has easily had the hardest time. Its recession is the worst in a quarter of a century, its corruption scandal has shaken consumer and investor confidence, and a slump in commodity prices has hurt the commodity-exporting nation hard.
None of these are short-term problems. Perhaps a rebound in commodities prices, which may happen earlier than the other problems being resolved, could get Brazil's economy growing again.
What can investors do?
Though confidence has been shaken, investors have not completely abandoned the country, at least for now. They're looking for stocks that are cheap yet fundamentally strong.
However, for investors with day jobs other than analyzing investments, this is not an easy job. Investing in a Brazil-focused mutual fund such as the Fidelity Advisor Latin America A Fund (FLFAX), which is invested in companies such as Compania Cervecerias Unidas (CCU), Fibria Celulose (FBR), Companhia de Saneamento Basico do Estado de Sao Paulo (SBS), and Companhia Brasileira de Distribuicao (CBD), is the easiest option to take exposure to Brazilian equities.
However, it's still not certain that the situation in Brazil has reached its low point. Investors may wish to keep these and other Brazil-focused mutual funds on their radars and wait for things to stabilize a bit before making any investments.
Let's take a look at inflation in Brazil and its impact on the economy and monetary policy.