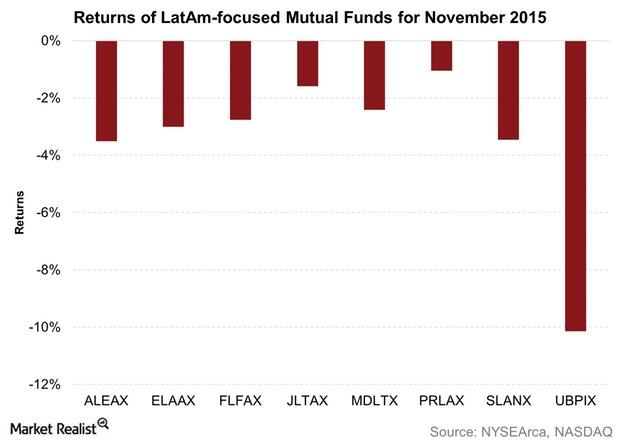 Brazil in Doldrums: How Have Latin America–Focused Funds Fared?
By David Ashworth

Nov. 20 2020, Updated 1:02 p.m. ET
Brazil: From bad to worse?
Right now, if we were to outline the problems being faced by Brazil, we'd have difficulty choosing a starting point. Let's take a shot at outlining a few of the problems faced by the country.
Article continues below advertisement
Economy, inflation, and finances
Brazil's economy is in a recession. The poster child of the commodities boom at the beginning of this millennium is now seeing everything flee: its capital, its confidence, and its credit rating. But it's not just the slump in commodities that's to blame. A lot of it has to do with poor judgment and decision-making by the government.
In 3Q15, Brazil's economy fell 4.5% from a year ago. This was the sharpest fall since the new GDP (gross domestic product) calculation system was instituted in 1996.
Inflation surged by 10.5% in November 2015. Brazil is in a situation known as stagflation, which is characterized by high unemployment and high inflation, coupled with declining economic growth. This high inflation rate has kept Brazil's benchmark interest rate, the Selic, at 14.3%.
Public finances have deteriorated. The budget deficit stood at 9.5% of economic output in the 12 months through October 2015. The primary budget balance is in a deficit and is the main reason for the country's losing its investment-grade status.
Credit rating downgrade
Standard & Poor's downgraded Brazil to junk status in September 2015. Three months later, on December 16, Fitch Ratings took the same action. It's widely expected that Moody's will follow suit.
Article continues below advertisement
Impeachment
Impeachment proceedings have begun against Brazil's president Dilma Rousseff. This is a big distraction for a country that desperately needs to focus on getting a grip on its finances and bringing its economy back on track.
Change of reign
Brazil has a new finance minister, Nelson Barbosa. He replaces Joaquim Levy, who helmed the ministry for only a year. Financial markets (BCA) (BSBR) (BBDO) have expressed their disappointment at the move, as they don't expect Barbosa to come down heavily on spending. This is something that's crucial for Brazil at this stage.
Article continues below advertisement
The state of Mexico
Mexico, on the other hand, is doing much better than Brazil. LatAm's second-largest economy is witnessing subdued inflation, and though its economy is not growing at a stellar pace, it's still clocking a healthy rate. Mexico's central bank, the Banco de Mexico, raised its overnight rate by 25 basis points to 3.3% on December 18, 2015. This was primarily in response to a rate hike in the United States.
How have Latin America–focused mutual funds fared?
As you can see from the graph above, Latin America–focused mutual funds (BDERX) (ELAAX) have fallen in November.
In this series, we aim to break down the portfolio holdings of eight Latin America–focused mutual funds and see how they've fared YTD 2015 through November and why. In the final part of the series, we'll try to draw up a composite picture for all who are either invested or are thinking about investing in Latin America via the mutual fund route.
We'll begin our analysis with the Aberdeen Latin American Equity Fund (ALEAX).