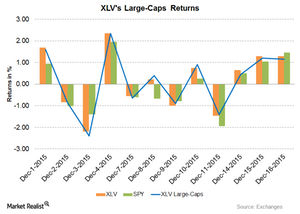 Biogen Rose on Collaboration News with Arsia
By Peter Neil

Updated
XLV large caps on an upward trend
The large-cap stocks of the Health Care Select Sector SPDR ETF (XLV) gained 1.2% but underperformed the fund and the SPDR S&P 500 ETF (SPY) on December 16, 2015. However, XLV has gained for three consecutive days, keeping the upward momentum. On December 16, 2015, XLV held 49 large-cap stocks in its portfolio of 56 stocks. Out of the 49 large-cap stocks, 44 stocks have given positive returns and only five stocks gave a negative return. XLV's large-cap stocks account for ~98.3% of XLV's portfolio, which includes stocks like Pfizer (PFE), Merck (MRK), and Abbott Laboratories (ABT). These stocks gave returns of 1%, 2.1%, and 1%, respectively.
The above graph reflects the performance of XLV's large-cap stocks in comparison with SPY and XLV. For December so far, XLV has managed to outperform SPY and XLV's large caps with a return of 2.2% as compared to SPY's return of -0.25% and XLV's large-cap return of 1.9%.
Article continues below advertisement
Biogen gains 3.5%
Biogen (BIIB) gained 3.5%. The stock went up as BIIB entered into a collaboration with Arsia Therapeutics. Arsia Therapeutics' press release said, "Arsia and Biogen will focus on providing meaningful treatment administration improvements for hemophilia patients by enabling subcutaneous versions of treatments that are currently administered via intravenous infusion. The companies will combine expertise to research formulations that could be administered at home through convenient subcutaneous injections."
BIIB closed at $299.29 and was trading above its 20-day, 50-day, and 100-day moving averages. Year-to-date, BIIB has returned -11.9%. It has a book value of $47.43. With its current price, the stock is trading at a price-to-book value of 6.31x. BIIB has a weight of ~2.5% in XLV's portfolio.