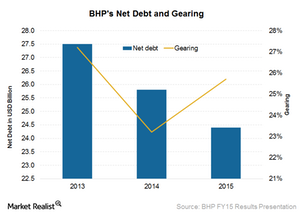 BHP May Have to Choose between Capex and Dividends
By Anuradha Garg

Updated
Balance sheet strength
BHP Billiton (BHP) (BBL) had a net debt of $24.4 billion as of June 30, 2015. BHP's net debt-to-forward EBITDA (earnings before interest, tax, depreciation, and amortization) ratio stands at 1.73x. While it's not bad, given the commodity price outlook, it could get worse.
In comparison, Rio Tinto (RIO) and Vale (VALE) have net debt-to-forward EBITDA ratios of 1.24x and 3.5x, respectively. Cliffs Natural Resources (CLF), on the other hand, is battling with a very high ratio of ~10x, partly owing to debt accumulation due to failed acquisitions and weak iron ore prices.

Article continues below advertisement
Credit rating downgrade?
BHP has always maintained that it has a top priority of maintaining a strong credit rating. According to S&P analyst May Zhong, "We forecast BHP Billiton's financial risk profile will likely worsen in 2016, due to the continued weakness in commodity prices, combined with the company's commitment to a progressive dividend payment."
S&P has stated that its rating of "A+" requires a company's funds from operations over adjusted net debt to be above 50%.
S&P has currently given an "A+" rating with a negative outlook to BHP. Moody's also has an "A1" rating on the company. If commodity prices remain at current levels and BHP has to pay its share of the $5.2 billion in penalties incurred by Samarco, its downgrade could be to an "A" rating, which is still within its level of comfort.
Capex or dividends?
When it comes to prioritizing a balance sheet, the question may shift to prioritizing either capital expenditure or dividends (DVY). Given the falling commodity price environment, BHP will most likely have to choose between cutting dividends and cutting capital expenditure, given that it does not borrow to pay dividends.
In the next part of our series, we'll analyze how short of covering its dividends BHP's forecast free cash flows fall.