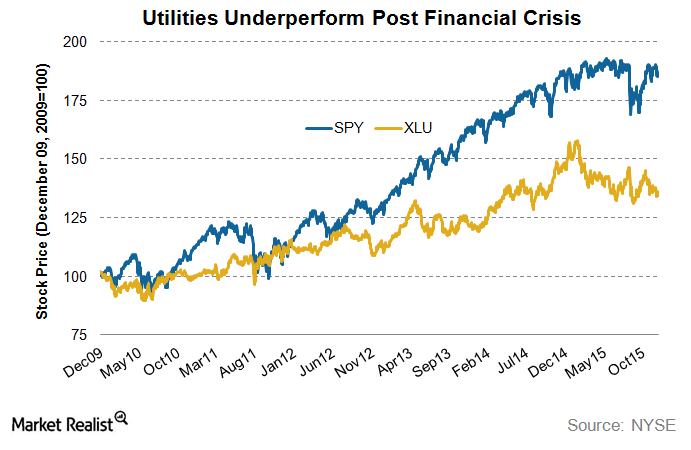 Battered Utilities Will Tackle the Fed's Liftoff in 2016
Interest rate hike
Utilities underperformed in 2015 mainly due to the expected interest rate hike environment. So, how will utilities react in 2016 since the Fed raised the benchmark interest rates? Investors sold utilities in 2H15 considering that interest rates would be higher soon. The sector underperformed and corrected -8% YTD (year-to-date).
In this series, we'll discuss utilities' performance in the past few years. We'll also discuss the trends and industry outlook.
Article continues below advertisement
Market performance
Utility stocks had a dull performance in 2015 except for a few rises due to merger and acquisition news in the sector. The share prices of utility giants Duke Energy (DUK) and NextEra Energy (NEE) fell by nearly 20% and 8% during the year as of December 15, 2015, respectively. The second half of the year was mainly concentrated on the possible interest rate liftoff. This impacted the entire utility sector. It caused the sector to underperform compared to other equities (SPY). Exelon (EXC) fell by -23% while PG&E (PCG) shares rose by 2% in 2015.
Utilities are vulnerable to interest rates
As a sector, utilities borrow heavily. So, rising interest rates increases their interest expenses substantially. This could dampen their profitability and force them to reduce capital distribution if the electricity demand continues to remain stagnant. Dividends are already falling in the utility industry from the last few years. Therefore, investors turned to Treasuries because of the attractive yields.
In reality, the interest rate isn't as big of an obstacle as it appears. Management plays an important role in driving the company's performance. Several actions are taken to reduce operational expenditures by investing in the transmission and distribution segments. Ultimately, this achieves cost advantages. Utilities are increasing their interest in renewable energy sources as well as fuel cells in power generation.