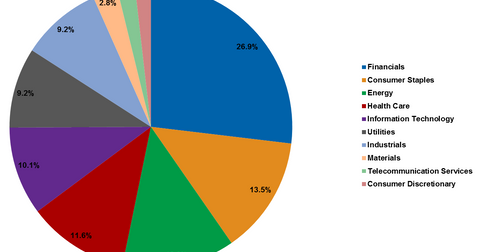 The American Century Equity Income Fund Focused on Financials
By Seth Bennett

Updated
The American Century Equity Income Fund
The American Century Equity Income A Fund (TWEAX) "looks for equity securities of companies with a favorable income-paying history that has prospects for income payment to continue or increase." It was launched on August 1994 and has the Russell 3000 Value Index as its benchmark index. As of September 2015, the fund had ~70% of its net assets invested in US stock, followed by ~23% in the US and foreign convertible, while the remaining net assets were invested in foreign stock and cash and cash equivalents.
Article continues below advertisement
Sectoral allocation and top holdings
The fund is focused on the financials sector, with 26.9% of its assets invested in it as of September 2015. Meanwhile, consumer discretionary makes up 13.5% of the net assets, and the energy sector makes up 12.9% of the fund's portfolio. The healthcare and information technology sectors round off the top five invested sectors.
As of September 2015, TWEAX's top holding in the financials sector included Bank of America Corporation (BAC). Meanwhile, the top investments in the energy sector include ExxonMobil (XOM). Additionally, Pepsico (PEP) is a top holding in the consumer staples sector while and Merck (MRK) is a top holding in the healthcare sector.
Fees and minimum investment
In order to invest in the TWEAX fund, you need a minimum initial investment of $2,500. Meanwhile, the fund has a gross expense ratio of 0.93% of total assets. The maximum sales charge that's imposed at the time of purchase is 5.75% of the offering price.
In the next article, we'll analyze The TIAA-CREF Equity Index Retail Fund.