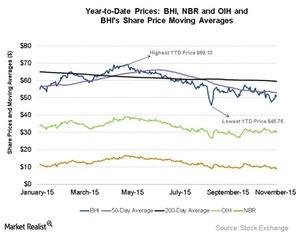 A Look at Baker Hughes as It Waits to Merge with Haliburton
By Alex Chamberlin

Dec. 10 2015, Updated 3:18 p.m. ET
Baker Hughes vs. industry ETFs
Baker Hughes (BHI) is the third largest US oilfield equipment and services provider by market capitalization. Its shares have fallen in 2015. On December 8, 2015, BHI was trading at $49.37, or ~12% lower than its share price at the beginning of 2015.
The VanEck Vectors Oil Services ETF (OIH), which tracks the index of 25 OFS (oilfield services) companies, fell 22% during the same period. BHI makes up 7.2% of OIH.
Nabors Industries (NBR), BHI's smaller market-cap peer, has fallen 29% since January 1, 2015. Compared to BHI's $21.5 billion market capitalization, NBR's market capitalization stands at ~$2.9 billion.
Energy prices have been tumbling since June 2014. This has led to a decline in upstream companies' exploration and production spending. This has had a negative effect on the entire OFS industry.
Article continues below advertisement
What does BHI's share price movement tell us?
Since the beginning of the year, BHI's share price has risen as high as ~$69 in early May. BHI released its fiscal 1Q15 results in the third week of April. Although its revenues and net income deteriorated in fiscal 1Q15 compared to fiscal 1Q14, its free cash flow improved.
BHI's performance has deteriorated with each reporting quarter this year. In late August, its share price fell to ~$46, its lowest in 2015. Quarter-over-quarter, the decline in BHI's revenues and net income moderated in fiscal 3Q15. The pending merger with Halliburton (HAL) also gathered some momentum after HAL refiled its request with the European Commission in late November to approve the merger. Since its August low, BHI has risen 8%.
BHI's moving averages
Haliburton's (HAL) share price started falling in May. On December 8, HAL's share price was at a 6% discount to its 50-day moving average (or MA). It was trading 16% below its 200-day moving average. Moving averages exhibit a smoother trend following a stock's price movement. A 50-day MA is a short-term MA, while a 200-day MA shows a long-term trend.
During April, BHI's share price crossed over the long-term MA from below. This sent a bullish signal, and BHI's price rallied after that. In early July, there was a reversal, and BHI's share price crossed the long-term MA from above, sending a bearish signal. Since then, BHI's share price has fallen 17%.
BHI's stock currently faces a 50-day MA of $52.60 as a short-term upside resistance. Its 200-day MA is currently at $58.80.
In the next part of the series, we'll look at what BHI's management thinks about the outlook for the company.