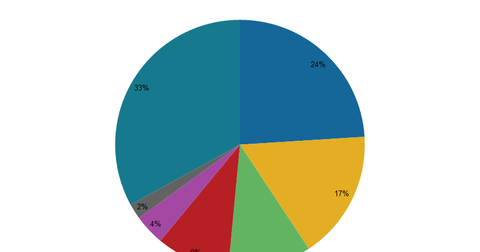 Apple and Xiaomi Compete as India's Smartphone Market Heats Up
By Adam Rogers

Updated
Xiaomi ties in with Foxconn to assemble handsets in India
India, with a population of over 1.2 billion people, is one of the fastest-growing smartphone markets globally. Two of the popular companies in this space—Apple (AAPL) and Xiaomi—are now preparing to grab a large market share in the country. On October 5, 2015, Xiaomi announced its partnership with the Taiwan-based manufacturer Foxconn to assemble handsets in India. It stated that its Redmi 2 Prime model will be manufactured at a Foxconn plant in South India.
"Manufacturing smartphones locally is a significant step towards incorporating Xiaomi into the fabric of India in the years to come," Hugo Barra, vice president of Xiaomi Global (and a former Google Android executive), said in a statement.
Article continues below advertisement
Apple's iPhone sales rise 93% year-over-year in 3Q15
While Xiaomi manufactures low-cost handsets, Apple focuses on high-end models. Apple hasn't focused much on Indian markets due to customers' low purchasing power compared to China. However, in 3Q15, Apple saw a 93% increase in iPhone sales in India, where sales outpaced China for the first time.
According to a report from IDC, Korean smartphone manufacturer Samsung (SSNLF) continues to lead the smartphone segment in India with 24% market share, followed by domestic players such as Micromax and Intex with market shares of 16.7% and 10.8%, respectively. Lenovo (LNVGY) has a market share of 9.5% while Apple and Xiaomi currently have market shares of 2% and 4%, respectively, in the country.
Apple represents 18.5% and 12.5% of the iShares U.S. Tech. ETF (IYW) and the Power Shares QQQ ETF (QQQ), respectively.