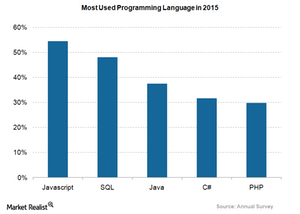 Apple Opened Up Swift Language to Challenge Oracle's Java
By Puneet Sikka

Updated
Many companies have been using Swift to develop apps
In the previous part of the series, we discussed how Apple (AAPL) has started to make a push towards the large opportunity that the enterprise market provides. In another initiative, Apple has now open-sourced its Swift programming language. Apple launched Swift last year in order to develop apps for iPhone, iPad, and other Apple products.
A number of companies have already been working with Apple's Swift language in order to develop apps. In the previous part of the series, we discussed how IBM (IBM) has developed a number of enterprise apps in partnership with Apple. Twitter (TWTR), Yahoo (YHOO), and LinkedIn (LNKD) have also been using Swift to develop apps on mobile devices.
Article continues below advertisement
Survey said Swift was the "most loved" programming language of 2015
By opening up Swift, Apple is indicating that it wants more developers to contribute and develop its ecosystem. By doing this, Apple is presenting a stiff challenge to Oracle's (ORCL) Java language, which has been a popular language among developers.
According to an annual survey conducted by Stack Overflow and as the chart above shows, Javascript, SQL, and Java are the three most popular technologies in 2015. However, the same survey mentioned that Swift was the most loved language of 2015. This shows that there is a great potential for the Swift programming language to become the most popular language among developers.
To gain diversified exposure to Oracle, you could invest in the SPDR S&P 500 ETF Trust (SPY). SPY invests 0.68% of its holdings in Oracle.