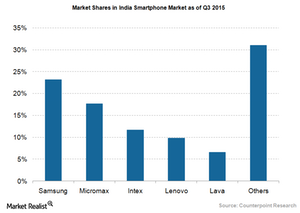 Apple Made the Right Choice to Cut iPhone 5S Prices in India
By Puneet Sikka

Dec. 17 2015, Updated 9:06 a.m. ET
Apple's share in the Indian smartphone market is only 1%
Apple (AAPL) has made rapid strides in the United States as well as China's smartphone market over the last few quarters. But when it comes to India (INDA), Apple is still a small player. To overcome this issue, Apple announced that it will slash the price for the iPhone 5S from $665 to $370, according to a report from the Times of India. This way, Apple will be able to compete better against the much cheaper Google's (GOOG) Android smartphones that have been dominating the Indian smartphone market.
According to a report from Counterpoint Research, Apple sold a record 1.7 million iPhones in fiscal 2015. But this wasn't enough for Apple to secure its position among the top five smartphone players in India, where it could only garner a 1% share in the quarter that ended in September.
Article continues below advertisement
India could overtake the US smartphone market by 2017
As the chart above shows, Samsung (SSNLF), Micromax, Intex, Lenovo, and Lava were the top five smartphone players in India last quarter. Microsoft (MSFT) was the fifth-ranked player in the Indian mobile phone market, but it couldn't secure a position among the top five players in the Indian smartphone market.
India is the third-largest smartphone market in the world, after the United States and China. Not only is India a big market but it's also a fast-growing market. IDC predicts that India will overtake the United States to become the second-largest smartphone market by 2017. Although slashing the iPhone 5S's price will affect Apple's gross margins to some extent, it's still a good move since it will help Apple penetrate the large Indian smartphone market.