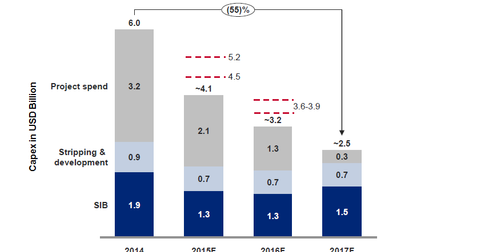 Anglo American Works to Restore Its Balance Sheet to Health
By Anuradha Garg

Updated
Restoring balance sheet
Anglo American's (AAUKY) balance sheet is in very bad shape. This is one of the major drivers that has led the company to take drastic steps to realign its focus on cash-flow generation, high-quality assets, and cost reduction.
The company is targeting a net debt reduction in 2016. Anglo American has also reiterated its net debt guidance of $13–$13.5 billion for the end of 2015, despite commodity price pressure. This, it said, is a result of cost savings.
Anglo American has taken several steps to reduce its net debt, including the following:
Article continues below advertisement
Reduction in capital expenditure: AAUKY has revised its capital expenditure downward by an additional $1 billion for 2015 and 2016. This reflects the current portfolio and disposals announced by the company. Also, its major projects are nearing completion, which will necessitate lower growth capital spend going forward.
Suspension of dividend: Anglo American has suspended its dividends (DVY) for the balance of 2015 and 2016. Upon resumption, the policy will be changed to one based on a payout ratio rather than a progressive dividend policy. This change was made to provide flexibility through the cycle. Other commodity producers, including Freeport-McMoran (FCX), Glencore (GLNCY), and ArcelorMittal (MT) have also suspended their annual dividends.
Disposals: A total of $2 billion worth of asset disposals have been agreed on for the company to date. Targeted disposals have increased to $4 billion.
While the company intends to maintain its investment grade rating, it has said that the cost of its debt will not be materially impacted, even if the rating drops below investment grade.
Maintaining liquidity
Anglo American's liquidity will be close to $15 billion at the end of 2015, which is similar to its end-2014 level. This liquidity will include cash in excess of $7 billion.
While there is still liquidity on Anglo American's balance sheet, a weak commodity price outlook could mean negative free cash flow for longer, worsening leverage ratios further. This is the main concern for investors right now, which brings them to the question of whether more drastic measures—such as a potential equity raise—are needed in the future.
Potential equity issue
On being asked a question about a potential equity raise, Anglo American's management maintained that they are taking steps such as cost reduction, dividend suspension, and portfolio restructuring to help the company through this tough commodity price environment.
However, as seen in the negative share price reaction following Anglo American's investor day, investors still seem to be concerned.