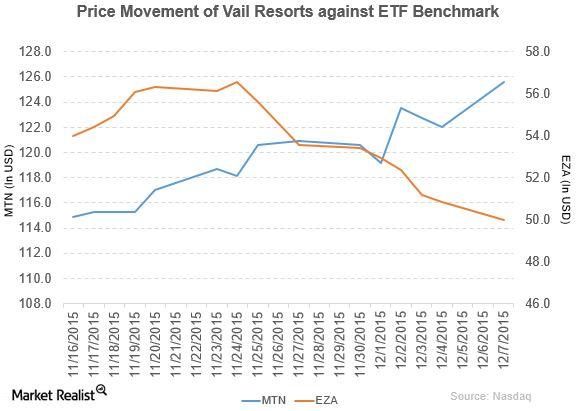 Analyzing Vail Resorts' Revenue and Income Growth in Fiscal 1Q16
By Gabriel Kane

Dec. 4 2020, Updated 10:52 a.m. ET
Vail Resorts' price movement
Vail Resorts (MTN) has a market cap of $4.6 billion. Its YTD (year-to-date) price movement has been rising quarter-over-quarter in calendar 2015. After the fiscal 1Q16 earnings report, MTN rose by 2.9% to close at $125.58 per share as of December 7, 2015. The price movement on a weekly, monthly, and YTD basis is 4.1%, 8.2%, and 40.3%, respectively.
At times, the stock broke the support of the 20-day and 50-day moving averages in 2015. Currently, MTN is trading 6.6% above its 20-day moving average, 11.5% above its 50-day moving average, and 19.1% above its 200-day moving average.
Article continues below advertisement
The iShares MSCI South Africa ETF (EZA) invests 10.2% of its holdings in Vail Resorts. The ETF tracks the performance of a market-cap-weighted index of South African stocks. It captures 85% of the publicly available market, excluding all small-caps. The YTD price movement of EZA was -20.9% as of December 4, 2015.
The competitors of Vail Resorts (MTN) and their market caps include:
Performance of Vail Resorts in fiscal 1Q16
Vail Resorts (MTN) reported fiscal 1Q16 total revenue of $174.6 million, a rise of 36.1% when compared to total revenue of $128.3 million in fiscal 1Q15. Revenue of the company's mountain and lodging segments rose by 67.1% and 9.9%, respectively. Meanwhile, the revenue of the real estate segment fell by 0.37% in fiscal 1Q16 as compared to revenue in fiscal 1Q15. It reported a loss on disposal of fixed assets of $1.8 million in fiscal 1Q16.
Article continues below advertisement
The company's operating income and EBITDA (earnings before interest, tax, depreciation, and amortization) rose to -$86.7 million and -$45.4 million, respectively, in fiscal 1Q16, a rise of 2.4% and 19.4%, respectively, as compared to the prior year period. Its net income and EPS (earnings per share) rose to -$59.6 million and -$1.63, respectively, in fiscal 1Q16, as compared to net income and EPS of -$64.3 million and -$1.77, respectively, in fiscal 1Q15.
Vail Resorts declared a quarterly cash dividend of $0.62 per share on its common stock.
According to Robert Katz, Vail Resorts' CEO, "Our first fiscal quarter historically operates at a loss given that our US based mountain resorts are not open for winter ski operations during the period. We were very pleased with our results in the quarter, with strong summer visitation to our US mountain resorts driving increases in all of our key lines of business bolstered by the investments we have made in new summer activities." He went on to add, "While we will announce our capital gain plan for the calendar year 2016 in March 2016, we are pleased to announce two signature projects that we intend to construct in 2016 for the 2016/2017 ski season."
About Vail Resorts
Vail Resorts is involved in ski resorts. It operates in three segments:
The Mountain segment operates the eleven premier resorts of Vail.
The Lodging segment manages luxury hotels under the RockResorts Brand.
The Real Estate Development segment holds, develops, buys, and sells real estate in and around resort communities.
Visit Market Realist's Hotel and Lodging page for an in-depth fundamental analysis of the sector.