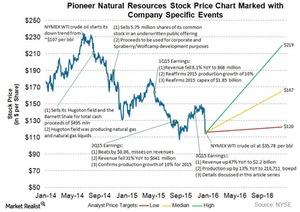 Analyzing Pioneer Natural Resources' 3Q15 Earnings Call
Pioneer Natural Resources' 3Q15 earnings call
In this part, we will study some of the most important takeaways from Pioneer Natural Resources' 3Q15 earnings call. We will also see how Wall Street analysts view Pioneer Natural Resources (PXD).
Article continues below advertisement
PXD's future production growth
Pioneer Natural Resources (PXD) is targeting a 15% CAGR (compounded annual growth rate) for its production over a period of the next three years from 2016–2018. Does it make sense to have this growth rate, especially when commodity prices are so low? NYMEX WTI crude oil was trading at ~$45 on the day of the 3Q15 conference call.
On this, Timothy Dove, Pioneer Natural Resources' president and chief operating officer, noted, "We have a goal set at the 15%-plus CAGR rate. We could exceed that if we choose. If we were in a lousy commodity price environment, we could come in under that if we wanted to." He further stated, "It's just a target we have internally for the type of growth rate we think we can achieve when the economics are as strong as they are."
Scott D. Sheffield, PXD's chairman and chief executive officer, noted that the company is targeting 15% growth over the next three years. He also affirmed that PXD is looking at better wells, fewer wells, and higher efficiencies to get to a 15% CAGR. PXD is targeting 60% crude oil in its production mix over the next few years.
Article continues below advertisement
PXD's capital budget, rig count, and oil prices
PXD is well hedged for 2016 and has a strong balance sheet. Its management noted that its drilling decisions, which also affect capex decisions, about increasing or decreasing rig count will be mostly governed by crude oil prices. Sheffield noted that if crude oil goes to $20 and stays there for a longer time, PXD would cut back rigs, or if crude oil maintains its 2015 levels, the rig count will remain more or less the same.
PXD's funding situation
PXD management plans to fund its capex from operating cash flow, cash and cash equivalents, and funds received from divestitures. The company expects to continue to target its net debt-to-operating cash flow below 1.5 and net debt-to-book capitalization below 35%. Presently, PXD sees no need to issue more debt or equity.
Wall Street ratings for PXD
Currently, ~77% of Wall Street analysts rate PXD as a "buy" and ~19% of analysts rate it as a "hold." Only ~6% rate the stock a "sell." The median price target from these recommendations is $167, which is ~44% higher than the December 22, 2015, closing price of $115.71.
Based on the median price targets of recommendations from Wall Street analysts, upstream companies like Range Resources (RRC), EOG Resources (EOG), and Occidental Petroleum (OXY) have potential upsides of ~203%, ~31%, and ~21%, respectively, from their December 22, 2015, closing prices. The SPDR S&P Oil and Gas Exploration & Production ETF (XOP) generally invests at least 80% of its total assets in oil and gas exploration companies.
In the next part, we will look into PXD's operational details for 3Q15.