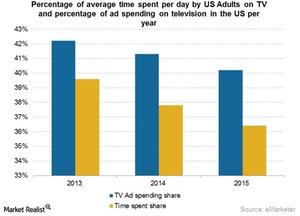 Analyzing the Competitive Landscape for Comcast NBCUniversal
By Shirley Pelts

Dec. 25 2015, Updated 12:06 p.m. ET
Cable Networks and Broadcast Television businesses
Comcast's (CMCSA) NBCUniversal Cable Networks and Broadcast Television businesses are facing stiff competition for carriage or affiliate fees, programming, and distribution from other media companies including the Walt Disney Company (DIS) and 21st Century Fox (FOXA).
Comcast's cable networks and broadcast television businesses are also competing for audience attention and advertisers due to the varied nature of programming offered by other media companies and OTT (over-the-top) services like Netflix (NFLX).
Article continues below advertisement
A key growth driver for Comcast's Cable Networks and Broadcast Television segments is advertising revenues. The advertising revenue earned by these businesses can also be affected by low program ratings and audiences moving away from Comcast's cable networks and broadcast television networks to its competitors.
According to a report from eMarketer, and as the chart above indicates, the average time spent per day by US adults watching TV is steadily declining and is expected to account for 36.4% of their media time in 2015. Consequently, there has also been a slight decrease in the percentage of total ad spending on TV. In 2015, 40.2% of total ad spending is expected to be on television while it was 41.3% in 2014.
Companies like Netflix are offering quality original content at a fraction of the cost of the monthly cable bill. It is driving away subscribers, especially Millennials, who are moving away from cable.
Comcast's NBC Network also faces competition for sports broadcasting rights from major players in the sports broadcasting business like Disney's ESPN and Fox Sports. Sports telecasting rights are expensive and add to the programming costs for a network.
Filmed Entertainment
Comcast's Filmed Entertainment segment competes with other film studios and other forms of entertainment. The Filmed Entertainment segment's competitive ability depends on the number of films produced by Universal Pictures, theatrical distribution revenues based on whether the movie is a hit, and the segment's distribution and marketing efforts.
The Filmed Entertainment segment also competes with other studios like Disney Studios for creative and technical talent, financing for its movies, and distribution of its movies through home entertainment.
Theme Parks
Comcast's Universal theme parks compete with other theme park operators including Disney's theme parks and resorts, Cedar Fair (FUN), and Six Flags Entertainment (SIX). Comcast continues to invest significantly in its theme parks and its attractions and is planning to open a new theme park in China.
Comcast makes up 2.6% of the PowerShares QQQ Trust Series 1 ETF (QQQ). QQQ has 4.4% of its holdings in the television and radio sector.