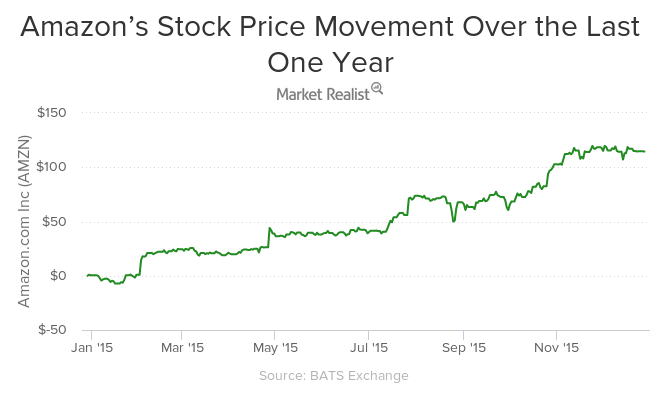 What Are the Catalysts for Amazon's Stock in 2016?
By Puneet Sikka

Dec. 4 2020, Updated 10:53 a.m. ET
AWS and Prime are growth drivers for Amazon
Amazon's (AMZN) stock had a great run in 2015. Its stock value rose by more than 120%. Investors were impressed by Amazon's ability to generate sustainable profits throughout the year. The following chart shows how Amazon successfully managed to turn around its fortunes by showing consistent operating profits in the last four quarters. AWS (Amazon Web Services) and the continued success of the Prime membership program were the main drivers for Amazon in 2015. This will likely continue in 2016 as well.
Article continues below advertisement
Amazon started providing results for AWS separately in fiscal 1Q15. Until then, Amazon combined its AWS revenue with advertising services and co-branded credit card arrangements in the "Other" segment. This news cheered investors. By revealing its AWS revenue separately, Amazon will give analysts and investors an idea about the value that they should attribute to AWS as a standalone business.
However, Amazon could face a stiff challenge from Microsoft's (MSFT) Azure cloud platform in 2016. According to a report from Business Insider citing FBR Capital Markets, Azure will likely reach an annual run rate of $8 billion in 2016. This is almost the same run rate that Amazon achieved this year. Google (GOOG) is also looking to be aggressive in this space. It hired Diane Green, one of its board members, as the head of its cloud business.
Amazon benefited from Prime Day
This year, another major driver for Amazon was the Prime program growth. Amazon's Prime subscriber growth in fiscal 3Q15 was 53%. Amazon launched its first-ever Prime Day on July 15. It offered exclusive lightning deals to its Prime members for a day. During its fiscal 2Q15 earnings conference call, Amazon's management mentioned that its Prime Day in July was bigger than last year's Black Friday in terms of sales.
Amazon also launched its Prime Video service in Japan (EWJ). Netflix (NFLX) launched in Japan in September this year. Amazon is looking beef up its video service to attract more members to join its Prime program.