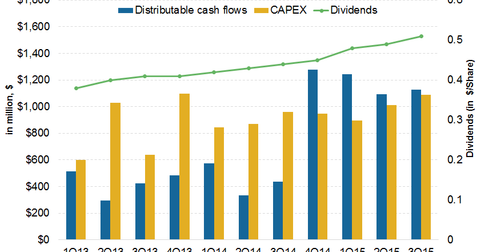 Analysis of Kinder Morgan's Cash Flow Measures
By Kurt Gallon

Updated
Kinder Morgan's dividends
Kinder Morgan's (KMI) dividends have continued to grow for the past several quarters. KMI declared a dividend of $0.51 per share for 3Q15. This represented a ~16.0% YoY (year-over-year) rise versus 3Q14, and a ~4.1% sequential rise over 2Q15.
KMI is expected to meet its 2015 dividend guidance of $2 per share. This would represent ~15% YoY growth by the end of 2015 versus 2014. However, the company lowered its 2016 dividend guidance. For more details, refer to Part Two of this series.
Article continues below advertisement
Kinder Morgan's distributable cash flow
Dividend per share is driven by distributable cash flow growth. Distributable cash flow is calculated by adjusting net income for certain non-cash charges and maintenance expenditure. This is unlike free cash flow calculation, in which net income is also adjusted for growth capital expenditure and net working capital.
Kinder Morgan's 3Q15 distributable cash flow rose after falling for two consecutive quarters. The sudden spike in KMI's 4Q14 distributable cash flow was due to a consolidation transaction completed in November 2014. For 3Q15, KMI's distributable cash flow was $0.51 compared to $0.42 during the third quarter of 2014.
Kinder Morgan's total coverage was $228 million for the first nine months of 2015. This is quite low compared to its 2015 budgeted coverage of $654 million. Kimberly Allen Dang, KMI's chief financial officer, said in the company's 3Q15 earnings conference call, "We're just going to give ourselves the flexibility as we go forward to decide on how much coverage and how much to grow."
Kinder Morgan's capital expenditure
KMI spent ~$3.0 billion in the first nine months of 2015. This was 12.0% higher than what it spent during the first nine months of 2014. KMI's 2015 capital expenditure is expected to be around $6.5 billion, 49.1% higher than its 2015 budgeted capital expenditure of $4.4 billion.
The rise in KMI's 2015 capital expenditure versus its budget could be attributed to the company's Hiland Partners acquisition, completed in February 2015. The majority of KMI's 2015 capital expenditure was spent on its Natural Gas Pipelines segment.
EnLink Midstream Partners (ENLK), Energy Transfer Partners (ETP), and Western Gas Partners (WES) are among the midstream MLPs that are bullish on natural gas projects. KMI constitutes ~3.9% of the iShares Global Infrastructure ETF (IGF).