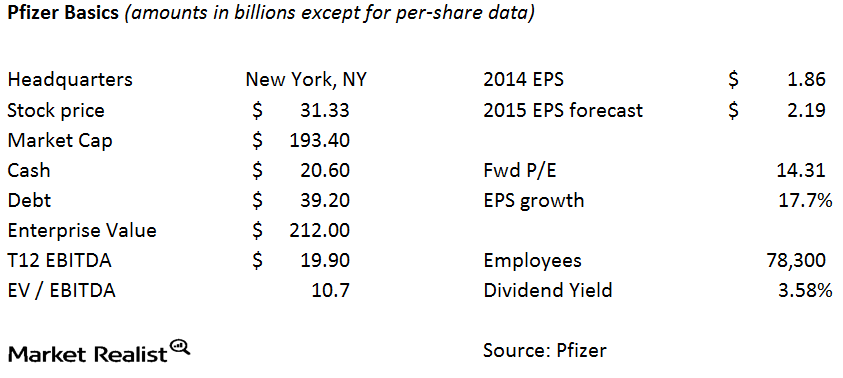 Allergan–Pfizer merger: What Does Pfizer Make besides Viagra?
By Brent Nyitray, CFA, MBA

Nov. 20 2020, Updated 4:33 p.m. ET
Pfizer is a global pharmaceutical company
Pfizer (PFE) is one of the largest pharmaceutical companies in the world. It's primarily known for Viagra, used to treat erectile dysfunction. It's in the process of buying Allergan (AGN), the Ireland-based aesthetic healthcare company, in a tax inversion transaction. The Allergan–Pfizer merger will change Pfizer's domicile to Dublin, Ireland, and allow them to gain access to overseas cash without triggering a repatriation tax in the United States.
Article continues below advertisement
Pfizer is divided up into two basic segments, namely, the Innovative Segment and the Established Segment. As a general rule, the Innovative Segment consists of products currently on-patent, while the Established Segment consists of products that have lost patent exclusivity, and are thus open to generic competition.
Global Innovative Pharmaceutical segment
This segment consists of the Global Innovative Pharmaceutical segment (GIP) and the Global Vaccines, Oncology and Consumer Healthcare segment (VOC). The GIP segment consists of products that treat inflammation, cardiovascular and metabolic, neuroscience and pain, rare diseases, and women's and men's health. The VOC segment includes vaccines and oncology products, as well as numerous consumer health products such as vitamins, pain management, gastrointestinal, respiratory, and personal care. The most well-known consumer brands include Centrum vitamins, Advil, Nexium, Robitussin, and Chapstick.
Article continues below advertisement
Global Established Products
Or GEP for short. This part of the company includes the brands that have lost market exclusivity and the mature, patent-protected products that are expected to lose exclusivity through 2015, as well as generic pharmaceuticals. Additionally, GEP includes Pfizer's sterile injectable products and biosimilar development portfolio.
Other merger arbitrage resources