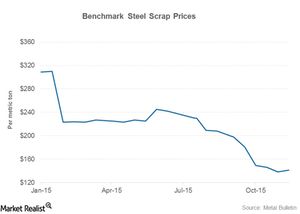 AK Steel's Raw Material Strategy: Different from Its Peers
By Mohit Oberoi, CFA

Updated
AK Steel's raw material strategy
Integrated operations have been one of the factors driving steel companies' recent performances. Iron ore and coal mining fall under steel companies' upstream operations.
Steel companies such as ArcelorMittal (MT), Gerdau (GGB), and POSCO (PKX) have different degrees of vertical integration. When raw materials such as iron ore and coal are trading higher, the steel companies that produce them through captive mines are at a competitive advantage. However, when the prices of these commodities are lower, as they currently are, vertically integrated steel companies are at a competitive disadvantage.
The SPDR S&P Global Natural Resources ETF (GNR) can give you a diversified exposure to international natural resources companies. Almost a quarter of GNR's holdings are invested in steel and other metal companies. BHP Billiton forms ~4.6% of GNR's holdings.
Article continues below advertisement
Integrated operations
AK Steel (AKS) produces only about a quarter of its coal requirements from captive mines. In iron ore, AK Steel has a joint venture (or JV) with Magnetation called Magnetation LLC. AK Steel's arrangement with Magnetation links the pellet pricing to IODEX (iron ore index). This has helped AK Steel procure iron ore at lower costs.
However, selling pellets at such depressed prices has pushed the Magnetation JV into financial difficulties. But AK Steel has no financial liabilities toward the JV, as it has already written off the investment.
Steel scrap
AK Steel also uses steel scrap as a raw material. Steel scrap prices have fallen steeply, as you can see in the above graph. This should help lower AK Steel's unit production costs further.
Unlike Steel Dynamics and Nucor, AK Steel doesn't have its own scrap collection and processing operations. Although Nucor's and Steel Dynamics' steel operations would benefit from falling steel scrap prices, these companies' recycling operations are negatively impacted by the sudden and steep fall in scrap prices.
A lesser degree of vertical integration could work in AK Steel's favor in the falling raw material price scenario.
In the next part, we'll explore how AK Steel's leverage ratios look in the current environment.