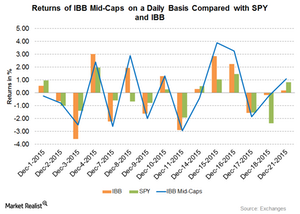 Agios Initiates Phase 1b Trial of AG-221 or AG-120: Stock Up 14%
By Peter Neil

Dec. 24 2015, Updated 8:06 a.m. ET
IBB mid-caps rise 1.1%
The mid-cap stocks of the iShares Nasdaq Biotechnology ETF (IBB) rose 1.1% on December 21, 2015. It outperformed the SPDR S&P 500 ETF (SPY) and IBB, with returns of 0.8% and 0.2%, respectively. IBB mid-caps account for ~20.3% of IBB's portfolio.
As of December 21, IBB holds 33 mid-cap stocks in its portfolio. The positive performance of the mid-caps was driven by the 21 mid-cap stocks that gave positive returns. Twelve mid-cap stocks underperformed. IBB mid-cap stocks include Halozyme Therapeutics (HALO), Myriad Genetics (MYGN), and Akorn (AKRX), which had returns of 4.8%, 0.7%, and -1.2%, respectively.
The above graph reflects the returns of IBB mid-caps, IBB, and SPY on a day-to-day basis. Since the start of December 2015, IBB mid-caps have returned 1.3%, SPY has returned -3.3%, and IBB has returned -0.35%.
Article continues below advertisement
Agios initiates Phase 1b trial of AG-221 or AG-120
Agios Pharmaceuticals (AGIO) stock rose 14% after it announced the initiation of the Phase 1b trial of either AG-221 or AG-120. According to the press release, Agios announced "the initiation of a Phase 1b, multicenter, international, open-label study of AG-221 or AG-120 in combination with induction and consolidation therapy in patients with newly diagnosed acute myeloid leukemia ([or] AML) with an isocitrate dehydrogenase ([or] IDH) mutation who are eligible for intensive chemotherapy."
AGIO closed at $64.44 on December 21 and was trading below the 100-day moving average of $76.94. However, it was trading above the 20-day moving average of $58.57. AGIO's trading volumes continue to be high with ~1.2 million stocks being traded compared to the five-day average trading of ~775,000 shares per day. AGIO has a book value of $9.99 per share. With its current price, the stock is trading at a price-to-book value of 6.45x. AGIO has a weight of 0.35% of IBB's portfolio.