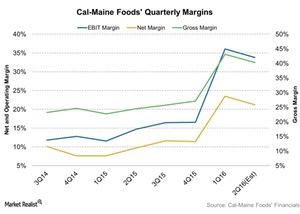 Acquisitions and Update on the Joint Venture with Rose Acre Farms
By Sushree Mohanty

Updated
Acquisition opportunities
Cal-Maine Foods (CALM) has a track record of completing many acquisitions in past years. The company executes its growth strategy by extending its ability to identify, implement, and integrate additional operations and consequently improve the margins. In that vein, the company mainly intends to expand capabilities in existing markets and broaden geographic reach by enhancing its national presence and strengthening customer relationships.
Article continues below advertisement
Update on the joint venture with Rose Acre Farms
In Cal-Maine Foods' fiscal 4Q15, the company entered into a production joint venture with Rose Acre Farms. Rose Acre is based in Seymour, Indiana. The venture was named Red River Valley Egg Farm. It will build and operate a shell egg production complex near Bogata, Red River County, Texas.
In a recent investor relations press release in November, the company's management provided details of the venture. According to the release, the production facility features Rose Acre Farms' patent-pending cage-free aviary designs and systems. It would provide for a capacity of ~1.8 million laying hens, with permits for up to 2.9 million hens. The facility is expected to create 80 to 100 new jobs in the local community, and production was expected to start in November 2015.
Management's perspective
Commenting on the announcement, Dolph Baker, who is the chairperson, president, and CEO of Cal-Maine Foods, stated, "We are pleased to enter into this production joint venture with Rose Acre Farms to expand our production capabilities and respond to increased customer demand for cage-free and other specialty eggs. Considering the uncertain regulatory framework in our industry right now, it made sense to partner with Rose Acre Farms to share the costs and mitigate the risk of such a large-scale aviary style egg production facility. The additional capacity provided by Red River Valley Egg Farm will significantly increase the availability of cage-free and other specialty eggs and egg products. We look forward to working with Rose Acre Farms on this venture."
Competitors
Cal-Maine Foods' peers in the industry include Pilgrim's Pride (PPC), Hormel Foods (HRL), and Tyson Foods (TSN). They reported respective operating margins of 10.9%, 12.2%, and 5.2% for their recent reported quarters. The Guggenheim S&P Equal Weight Consumer Staples ETF (RHS) and the First Trust Consumer Staples Alpha DEX Fund (FXG) both invest 5.3% of their holdings in HRL stock.