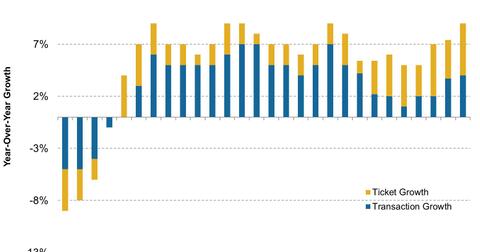 Will Starbucks' Key American Market Keep Outperforming?
By Adam Jones

Updated
Same-store sales growth
An important performance measurement for the restaurant industry, same-store sales growth tells us the change in sales at an existing location over a year. Overall combined same-store sales for Starbucks (SBUX) rose 8% last quarter, which increased from 5% in the corresponding quarter in 4Q14. This growth was primarily driven by traffic, which grew to 4% from 1% over the same period. Since the Americas segment is the biggest segment for Starbucks, let's look at it in more detail.
Currently, Starbucks forms about 3% of the Consumer Discretionary Select Sector SPDR ETF (XLY). XLY also invests 3% of its portfolio in McDonald's (MCD), 1% in Chipotle (CMG), and 0.3% in Darden (DRI).
Article continues below advertisement
Americas segment
The Americas segment contributes 69% of Starbucks' (SBUX) revenue and 69% of its operating income.
The Americas segment's revenue grew 11% to $3.4 billion from $3 billion in the corresponding quarter a year ago in 4Q14.
Over the past 11 quarters, the Americas segment's revenue has grown at an average rate of 10% YoY (year-over-year), and its revenue growth has picked up in the recent four quarters.
Same-store sales growth
The Americas segment's revenue growth picked up as a result of acceleration in same-store sales growth.
In 4Q15, same-store sales growth in the US segment came in at 9% compared to 5% in 4Q14.
The primary driver of this growth was an increase in traffic, which grew to 4% compared to 1% in 4Q14.
The ticket or average check also grew by 1% to 5% over the same period.
Why this segment grew
The main countries in the Americas segment are the United States, Mexico, and Canada.
The Americas segment's growth was primarily driven by the United States, which experienced a 9% growth in same-store sales.
Traffic growth is the most encouraging number in the Americas segment's growth, and it's picking up, as you can see in the chart above. This essentially means that Starbucks is able to attract more customers to its stores.
People bought more food items, which alone bumped up same-store sales growth by 3%. Starbucks' core menu and its Teavana brand also helped fuel this growth.
With the introduction of food items, Mobile Order and Pay, and leveraging Stars as a currency, Starbucks is poised to grow its same-store sales in the United States.
The company now expects global same-store sales growth to come in above its previous mid-single digit growth rate in 2016.
Next, we'll look at Starbucks' other segments.