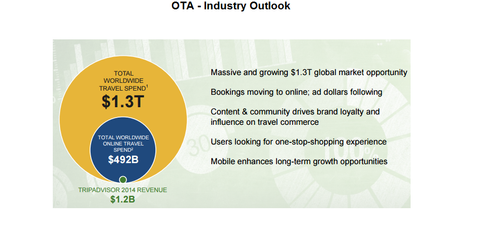 How Will the Priceline Collaboration Help TripAdvisor?
By Ally Schmidt

Updated
Global travel industry
The global travel industry is a huge market that is growing rapidly and is currently worth more than $1.3 trillion. The market is influenced by various economies and their travel spending. For 2015, analysts project that a total of $492 billion will be spent on travel globally. TripAdvisor garnered revenues of $1.2 billion during 2014, which forms a minute part of the global travel industry.
Article continues below advertisement
Priceline-TripAdvisor deal
Priceline signed an unusual deal with its rival TripAdvisor under which the latter will provide direct booking facilities to its customers from Booking.com's listings. However, it is still not clear how both the companies would share revenues from the deal. The news of the deal sent TripAdvisor's stock up by ~26% on the day of its announcement.
The deal with Priceline is expected to help TripAdvisor rapidly grow its portfolio and offerings. As travelers today look for more content along with a more social and interactive experience, community and brand loyalty become the key drivers for travel commerce. The Priceline deal offers the company an array of brand-loyal customers who will now use its instant booking platform to satisfy their travel needs.
This deal would thus make it easier for TripAdvisor's users to book hotel rooms and add to the company's revenue streams.
Analysts believe that the Priceline inclusion may have come at a monetization cost. While this may be true in the short term, TripAdvisor has significant levers in place to overcome this in the long term.
TRIP makes up 1.8% of the NASDAQ-100 Ex-Technology Sector Index (QQXT). TRIP's partner Priceline (PCLN) forms 1.8% of the fund's holdings, and Marriott (MAR) forms 1.7%. E-commerce player Amazon (AMZN) forms the largest holding of 1.9%.