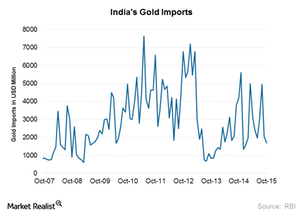 Will India's Gold Monetization Plan Skew Gold Imports Significantly?
By Anuradha Garg

Updated
Gold schemes introduced in India
In a hope to reduce gold imports and the current account deficit, the government of India launched two major gold initiatives in November 2015. In this article, we'll discuss the potential impact these schemes could have on India's gold imports.
Article continues below advertisement
Gold Monetization Scheme (or GMS)
India's gold monetization scheme, which aims at pulling gold out of Indian homes and temples, is off to a very slow start. In the first two weeks, only 400 grams of gold has been collected under the scheme. This contrasts with the estimated horde of 20,000 tons of gold in the country.
Returns and tax concerns are other major issues plaguing the scheme. The return offered on gold deposits is 2.3%–2.5%. Though this is higher than the interest offered by a similar previous scheme of 1%, it's still lower than the 8% offered by normal deposits.
Investors are also concerned about coming under the eyes of tax authorities. In the short term, the impact of this policy is expected to remain muted, and even in the long term, the government will have to work toward overcoming people's reluctance to part with their gold.
Gold Sovereign Bond Scheme (or GSB)
The Indian government also introduced the GSB scheme to capture some of the investment demand for gold. Under this plan, the RBI (Reserve Bank of India) will be issuing bonds to investors on behalf of the Indian government, which has an annual cap of 500 grams per person. This scheme has received much better response than the GMS. The first tranche of GSB, which closed on November 20, received an encouraging response with 63,000 applications for 917 kg of paper gold. This scheme might be able to channel some of India's investment demand for gold toward paper gold. Over the medium to long term, this plan could lower some gold imports.
Article continues below advertisement
ETFs that may also be affected include the iShares Silver Trust (SLV) and the Sprott Gold Miners ETF (SGDM). Mining companies such as First Majestic Silver (AG), Royal Gold (RGLD), and GoldCorp (GG) would also be affected. These three stocks together make up 12.7% of the price changes in the VanEck Vectors Gold Miners ETF (GDX).
Impact on gold imports
The majority of India's owned gold is in the form of jewelry. A very small proportion is bought as an investment. India's deep-rooted connection with gold might suggest that it will be difficult for the Indian population to part with physical gold, even if it is to generate 2.5% interest. There have also been concerns that the public could be against temples depositing gold under the scheme. This would leave a large portion of the gold hoard untouched. One of the other major reasons for people to save in the form of gold is the general distrust for the economic system.
This suggests the near-term impact is expected to remain tepid while a lot of work will be required to make any significant change to Indian habits of hoarding physical gold.