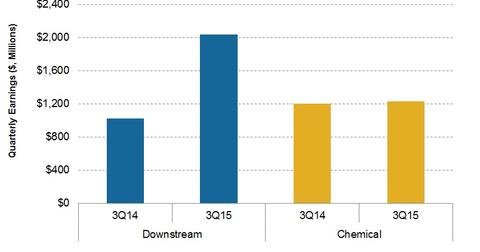 Will ExxonMobil's Downstream Projects Propel It after 3Q15?
By Alex Chamberlin

Updated
ExxonMobil's downstream earnings
In 3Q15, ExxonMobil's (XOM) downstream earnings nearly doubled over its year-ago earnings. XOM's downstream non-US earnings improved spectacularly, increasing ~174% to $1.5 billion in 3Q15 from 3Q14.
Increasing crude oil and natural gas production has led to lower raw material and energy costs for integrated energy companies such as ExxonMobil. This has strengthened refining margins over the past few years. Stronger refining margins added nearly $1.4 billion to XOM's downstream earnings. However, XOM's downstream operation suffered from lower refining volumes due to higher maintenance-related activities in 3Q15. In addition, refining throughput and petroleum product sales volume also decreased in 3Q15 compared to a year ago.
Article continues below advertisement
ExxonMobil's chemical segment
Net income for ExxonMobil's chemical segment in the United States decreased 39% in 3Q15 over 3Q14. Net income, however, for its non-US chemical segment increased 61% from 3Q14 to 3Q15. The rise in the chemical segment income was primarily due to lower input price and a greater proportion of higher valued products in production volume. Meanwhile, 3Q15 product sales for the chemical segment were somewhat lower compared to 3Q14, declining by ~3%.
Crack spread in 3Q15
To give you an idea of the improving refining advantage, the US Gulf Coast 3:2:1 crack spread increased during 3Q15. It averaged ~$21 per barrel from July to September 2015. In comparison, the spread averaged $18 per barrel during 3Q14.
Rising crack spreads typically result in increasing refinery margins. The 3:2:1 crack spread reflects the difference between the cost of three barrels of crude oil and the price of two barrels of gasoline and one barrel of diesel.
Article continues below advertisement
ExxonMobil's downstream projects
ExxonMobil is investing to expand its hydrocracker unit capacity at its Rotterdam refinery. Construction is expected to begin in 2016, with startup projected in 2018. This should continue to drive ExxonMobil's downstream operations going forward. Recently, XOM has completed capacity expansions at its Baytown, Texas, and Singapore refineries that produce lube-based products.
XOM versus Royal Dutch Shell's downstream earnings
Compared to ExxonMobil's 99% increase in downstream earnings in 3Q15 over 3Q14, Royal Dutch Shell's (RDS.A) downstream earnings increased 55% over the same period. Royal Dutch Shell is XOM's integrated energy peer. In 3Q15, it recorded $7.4 billion net loss compared to XOM's 3Q15 net income of $4.2 billion. XOM is 1.9% of the iShares Core S&P 500 ETF (IVV).
In the next part, we'll look at ExxonMobil's year-to-date financial results.