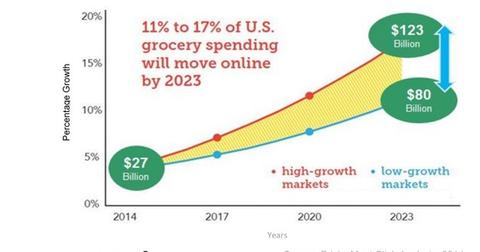 Whole Foods and the Online Grocery Shopping Trend
By Sonya Bells

Updated
A look at online grocery segment
The online channel has been increasing its presence in the grocery sector slowly, yet steadily. Online grocery sales as a percentage of total grocery sales in the US stood at 4% in 2014. However, it is projected that online grocery sales will increase as customers get comfortable with the idea of shopping online.
According to the Brick Meets Click data, online grocery sales as a percentage of total grocery sales is expected to increase to 11%–17% by 2023. According to a recent research by Dunnhumby, online channels are likely to have a profound effect on grocery retailers, with 50% of sales in key categories being sold online well before 2023.
Article continues below advertisement
Whole Foods and e-commerce
Although Whole Foods does not operate a conventional e-commerce site, its shoppers can order from its catering menu online. The company also partnered with Instacart in 2014, offering both grocery home delivery service and in-store pickups. Instacart operates in 15 cities across the US and aims to enable shoppers to browse through the online catalogs of partnering supermarkets and to deliver selected orders to users' homes. Companies such as Kroger Company (KR) and Wal-Mart (WMT) have invested in creating their own systems for online ordering and at-home delivery or in-store pickup.
Although the online channel has the potential to benefit all retail players, companies such as Amazon.com (AMZN) and Wal-Mart, who have the resources and national footprint, are all best prepared to conquer the markets. For example, Amazon began expanding its grocery service, called AmazonFresh, in the second half of 2014 to California.
ETF exposures and what's next