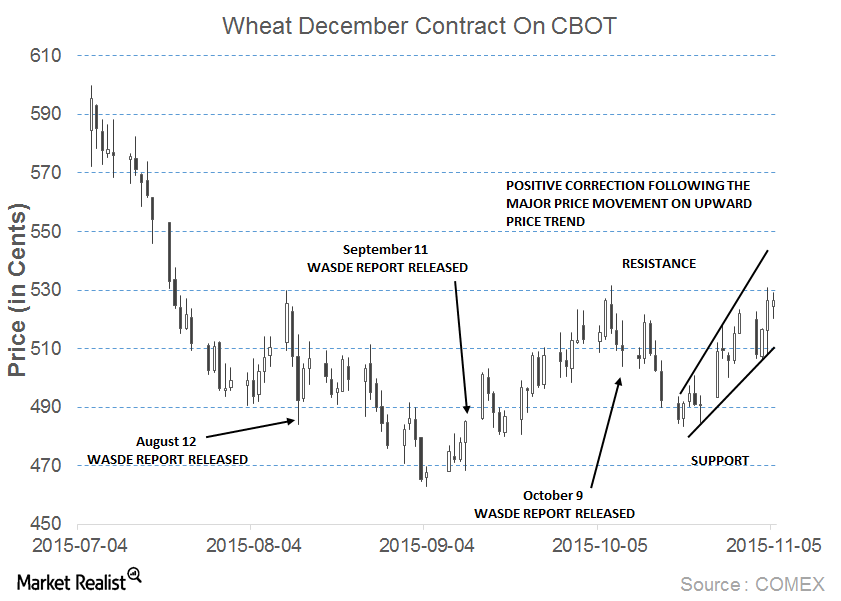 Could Wheat Prices Rise Due to Weak Export Demand?
By Sean Brown

Dec. 4 2020, Updated 10:52 a.m. ET
Upward trending channel
Supported by the positive correction the day after the big price movement, wheat December futures on the CBOT (Chicago Board of Trade) traded near $5.25 per bushel on November 5, 2015. During the day, the price fell nearly $0.10 per bushel. This could be due to disappointing export results. However, the expected upward movement on the prices didn't materialize. The resistance level at $5.30 seems strong. It could require a strong positive sentiment. Wheat prices continued on an upward price trend.
Article continues below advertisement
What factors are driving wheat?
In many wheat producing countries, the weather has been dry. Dry weather conditions might cause output and quality issues for some of the major wheat producing countries like Australia, Russian, Ukraine, and the EU (European Union). There has been positive anticipation for US wheat planting season. Late but favorable conditions might support the wheat crop more. Due to the less-than-average impact of unfavorable weather conditions, US wheat might provide good quality. The quality could be buyers' main requirement. These factors supported the rise in wheat futures prices on November 5, 2015.
Weak export and domestic demand sentiment among high supply and availability might keep the pressure on wheat prices. The higher US Dollar Index indicated more relatively expensive US wheat exports. The weather in the US Great Plains might remain dry and unfavorable. This could hinder the wheat growth. These sentiments might push the wheat futures prices down.
In the competition for the pull and push factors for wheat futures prices, the pull factors might dominate. The prices could fluctuate in the range of $5.10–$5.35 per bushel.
Ticker discussion
The share of J M Smucker (SJM) and General Mills (GIS) recovered from their falling trend for two and four days, respectively. They advanced on November 5, 2015. On November 5, Pilgrim's Pride (PPC) rose higher than the previous five-day price rise. Hormel Foods' (HRL) prices remained volatile and rose on November 5 after falling for a day. ETFs like the Material Select Sector SPDR ETF (XLB) fell on November 5 for the second consecutive day.