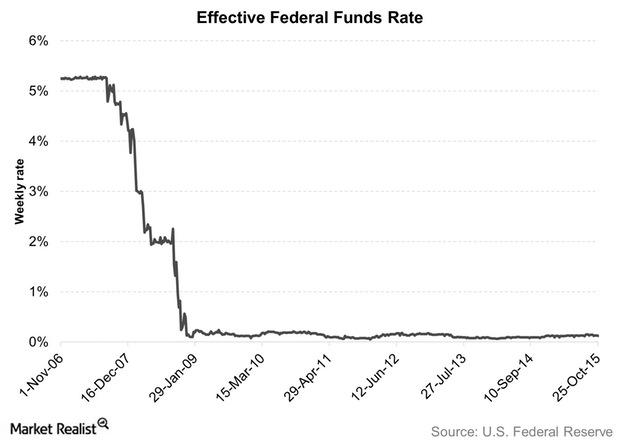 What Can Investors Expect from the Interest Rate Environment?
By David Ashworth

Nov. 3 2015, Published 12:35 p.m. ET
The Fed's monetary policy stance
Central bankers have clearly communicated that their policy moves will be driven by data. If inflation, as measured by the PCE (personal consumption expenditures) price index, starts to move towards the 2% level in a sustainable fashion, policymakers will cause a liftoff. They will increase the target range of the federal funds rate. However, the economy and the labor market have to be doing well and look strong.
Policymakers have refrained from making any promises—even in the medium term. Considering how 2015 has panned out in terms of the expectations from the monetary policy, this looks like an appropriate stance.
Article continues below advertisement
Future expectations
The FOMC (Federal Open Market Committee) met on October 27–28 to decide on the course of monetary policy in the US. In the statement released after the meeting, market participants thought that the tone was "hawkish." The CME Group FedWatch tool measures market participants' expectations of a rate hike. Before the meeting, it showed that the probability of the target range increasing to 0.5% in the meeting was just 4.6%. The tool assigned only a 32.8% probability of a rate hike in the December meeting.
As of November 3, 2015, the probability of the target range increasing to 0.5% in the December meeting rose to 50.4%.
Central bankers haven't taken a rate hike in 2015 off the table. Market participants felt that the liftoff would take place in 2015. However, they seem to be getting ready for the event in 2015.
A rate hike will benefit banks and financial companies like U.S. Bancorp (USB), Citigroup (C), and Wells Fargo (WFC) because they would be able to earn higher income on loans than they do now.
However, at least in the short term, corporates' profits can be expected to fall as the economy comes to terms with a rising interest rate environment—something that hasn't occurred since December 2008. Short-term bond yields (BGNAX) can be expected to rise while the inflation trajectory will determine long-term yields (WHOSX).
A "blastoff," a sudden rise in interest rates due to changing economic conditions, isn't expected. If it did occur, it would be a challenge for the bond market.
It's important for investors to keep an eye out for liquidity in the bond markets.