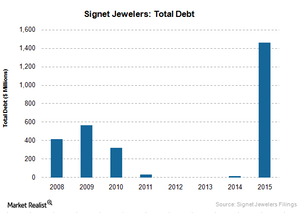 Weighing Signet Jewelers' Debt against Competitors
Signet's debt profile in fiscal 2015
Signet Jewelers Limited (SIG) is the largest specialty retail jeweler in the United States, the United Kingdom, and Canada, with a debt of $1.5 billion on its balance sheet in fiscal 2015, which for the company ended on January 31, 2015.
Article continues below advertisement
Reasons behind debt
According to its fiscal 2015 results, 93.3% of Signet's debt was long-term debt. In 2011, the company paid down all of its outstanding debt, leaving it leverage-free at the time. However, the company raised debt of $1.4 billion in fiscal 2014 when it moved to acquire Zale Corporation for approximately $1.5 billion.
Leverage ratio
Signet had a leverage ratio of 52% at the end of fiscal 2015. In comparison, its peers in the industry had the following leverage ratios during their comparable fiscal years:
Signet Jewelers, Tiffany, and Fossil all have exposure in the iShares Russell 1000 Growth ETF (IWF) and the iShares Core S&P 500 ETF (IVV). Together they make up 0.12% of the portfolio holdings of IWF and 0.19% of the holdings of IVV.
Article continues below advertisement
Coverage ratio after fiscal 2015
Signet had a total debt-to-EBITDA (earnings before interest, tax, depreciation, and amortization) ratio of 2.0x at the end of fiscal 2015, whereas Tiffany and Fossil Group, its largest peers in the retail specialty jewelry industry (XRT), had debt-to-EBITDA ratios of 1.0x and 0.95x, respectively.
Tiffany's and Fossil Group's fiscal year-end dates are January 31, 2015, and January 3, 2015, respectively. At the end of fiscal 2014, which for Pandora AS ended on December 31, 2014, Pandora was debt free.
In the fiscal year that ended on January 2015, Signet adjusted its debt-to-adjusted EBITDAR (earnings before interest, tax, depreciation, amortization, and restructuring) ratio of 4.0x. The company expects to achieve a ratio of 3.5x or below in fiscal 2016, which it aims to accomplish by not taking additional debt during the period.
Continue to the next part of this series for a look at Signet's capital allocations for new stores.