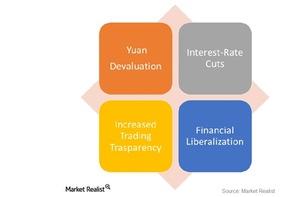 Further Weakness: What's in Store for the Chinese Economy?
By Lynn Noah

Dec. 4 2015, Updated 12:05 a.m. ET
Most economic indicators still point to weakness
In October, China's exports (in US dollar terms) fell 6.9% year-over-year (or YoY) to $192.4 billion while imports fell 18.8% year-over-year to $130.8 billion. China's industrial production rose 5.6% year-over-year in October and came in at the slowest pace since April 2015. The points to lower capacity utilization in the industrial sector due to weak demand from local and foreign consumers.
Due to this manufacturing slump, mutual funds such as the Oberweis China Opportunities Fund (OBCHX) and the AllianzGI China Equity Fund – Class A (ALQAX), which have ~20.0% exposure to the industrials sector, may be adversely affected. Further, the revenues of the multinational companies such as Apple (AAPL), Nike (NKE), and Ford Motor Company (F) may be affected due to a slowdown in the Chinese economy, as China is a major revenue driver for these companies.
However, China's retail sales are a bright spot amid a lot of gloom. China's total retail sales of consumer goods rose 11.0% year-over-year (YoY) to 2.83 trillion yuan in October. Similarly, China's real estate market is also picking up.
Article continues below advertisement
Financial reforms
In October, the PBoC cut its one-year benchmark bank lending rate by 25 basis points (or bps) to 4.35%—the sixth rate cut since November 2014. It also its trimmed reserve requirement ratio (or RRR) by 50 bps to 17.5%—the fifth rate cut in the RRR since November 2014.
But still the Chinese economy is fragile, and it won't be surprising if Chinese authorities unveil further monetary and fiscal stimulus in the near term.
Outlook
The Chinese Central Government has been making efforts to put the economy back on track for growth by announcing various stimulus reforms. To achieve long-term economic growth and stabilization, China is aiming to change its focus from an export-oriented economy to a consumer-driven economy in order to reduce its dependence on exports in light of a slowdown in the global economy. But in the near term, the road may be bumpy for China due to negative investor sentiment and concerns over China's economic growth.
Investors might want to stay updated on the latest developments in China that can affect the performance of the mutual funds in this series. Bear in mind that past performance doesn't guarantee future performance.
For more updates and analysis on mutual funds, please visit Market Realist's Mutual Funds page.