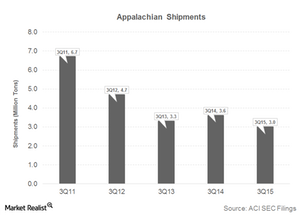 Why Natural Gas Dented Arch Coal's Appalachia Segment in 3Q15
By Mike Sonnenberg

Updated
Arch Coal's 3Q15 Appalachian shipments
In 3Q15, Arch Coal's (ACI) Appalachia segment shipped 3.0 million tons of coal, down from 3.6 million tons in 3Q14. Shipments in 3Q15 included 1.6 million tons of metallurgical coal (used in steelmaking) and 1.4 million tons of thermal coal (used in power generation).
Domestic thermal coal shipments were marred by weak natural gas prices and various regulatory issues. International metallurgical coal shipments remained under pressure from slowing growth in China, global oversupply, and the strong US dollar.
Article continues below advertisement
Price per ton
Arch Coal's selling price per ton at the Appalachia segment came in at $62.24 in 3Q15. This was lower than 3Q14's $68.72. Meanwhile, metallurgical coal benchmark prices tumbled to $93 per ton in 3Q15, compared to $117 per ton in 3Q14.
We should note that US metallurgical coal was trading at a heavy discount to the benchmark as of November 9. The benchmark price is for a grade of Australian metallurgical coal. In all, Arch Coal (ACI) generated revenues of $186.7 million from its Appalachian segment in 3Q15, which was significantly down from its revenues of $247.4 million in 3Q14.
Downward spiral
Arch Coal has seen its Appalachian shipments falling for years now. In 3Q11, the company shipped 6.7 million tons of Appalachian coal, out of which 5.2 million tons was metallurgical coal. The company's metallurgical coal shipments have fallen by about 70% since then.
With shipments and pricing falling, Arch Coal's Appalachian segment seems to be in a downward spiral. Walter Energy and Alpha Natural Resources, Arch Coal's fellow Appalachian metallurgical coal producers (KOL), have already filed for bankruptcy. Consol Energy (CNX) has likewise been struggling in the current environment as of November 9, 2015.