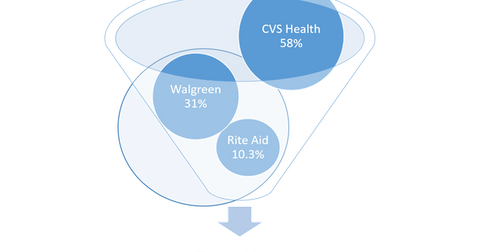 Walgreens-Rite Aid Deal: How Would It Impact the Industry?
By Sonya Bells

Updated
Impact of the deal on the drugstore industry
As we discussed in the last part, Walgreens Boots Alliance (WBA) proposed to buy Rite Aid (RAD) for $17.2 billion. When the blockbuster deal is complete, it will combine the second and third-largest drugstore chains by market share in the US. According to research from IBISWorld.com, the US pharmacy and drugstore industry is worth $263 billion in total sales and $10.3 billion in profit. Currently, CVS (CVS) is the market leader in this segment. It has a market share of 58.1%. It's followed by Walgreens' 31% share and Rite Aid's 10.3% share.
Article continues below advertisement
The combined entity will be worth $130 billion in annual retail sales. It will have 13,000 stores under its umbrella. It will hold 41.3% of the pharmacy market share. The deal will consolidate the pharma retail industry more with just two huge retail chains. There won't be scope for a number three player.
However, the drug retail space has been facing more competition from grocery store players like Kroger (KR) and Walmart (WMT). Kroger operates more than 2,000 pharmacies in the US. Walmart has 4,000 units across the US.
Ongoing M&A in the pharmaceutical space
According to data released by Dealogic, M&A (mergers and acquisitions) value for drug makers, hospital chains, and health insurers in the US has been around $427 billion during the current calendar year. This has also been the busiest year for the healthcare sector in terms of M&A.
In June 2015, CVS announced its intent to acquire 1,700 pharmacies from Target (TGT) for $1.9 billion. Currently, the deal is under review by the FTC (Federal Trade Commission).
In May 2015, CVS acquired Omnicare in a $10.1 billion deal.
In February 2015, Rite Aid announced its $2 billion purchase of Envision Pharmaceutical Services—a pharmacy benefit manager.
Article continues below advertisement
Winners and losers outside the deal
As far as the impact of the deal on external parties is concerned, McKesson will likely be a loser. McKesson has a long-standing distribution agreement with Rite Aid for branded drugs. The company will likely lose a portion of its sales if the deal reaches a conclusion.
AmerisourceBergen (ABC) is partly owned by Walgreens. It could benefit. The distribution that's lost by McKesson could be shifted to AmerisourceBergen.