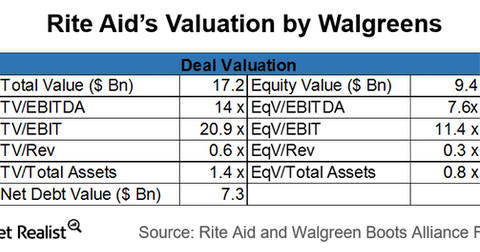 Walgreens-Rite Aid Deal: Understanding the Economics
By Sonya Bells

Updated
Deal's valuation
As we discussed in the first part of this series, Walgreens Boots Alliance (WBA) agreed to buy Rite Aid (RAD) for $17.2 billion. The company is paying more than 7x the trailing 12-month EBITDA (earnings before interest, tax, depreciation, and amortization) for Rite Aid. It agreed to take on $7.3 billion in net debt. The total deal value-to-Rite Aid's revenue is 0.6x and its EBITDA is 14x.
The above analysis is based on Rite Aid's trailing 12-month financials.
The total deal value-to-EBITDA stands at 14x. It's in line with Walgreens' latest acquisition of Boots Alliance in 2014. The company paid $24.4. billion at 14.6x the EBITDA. The analysis is based on Rite Aid's trailing 12-month financials.
Article continues below advertisement
What does the deal mean for Walgreens' balance sheet?
This is an all-cash deal. It means that Walgreens proposed to buy Rite Aid by paying $9.4 billion in cash. The payment won't include any stock component. The company didn't want to dilute its shareholding in the company.
Walgreens has $3 billion in cash and cash equivalents on its balance sheet. It has $11.7 billion in long-term debt. The company also took Rite Aid's net debt of $7.3 billion. This means that the deal has to be financed by raising more debt. This would put more pressure on Walgreens' balance sheet.
Potential headwinds
For the deal to reach a conclusion, the FTC (Federal Trade Commission) will have to approve it. The combination of Rite Aid and Walgreens would turn the US drugstore market into a duopoly. The FTC might object to the idea. CVS's (CVS) recent acquisition of Target's (TGT) pharmacies, a smaller deal, is still under review.
However, with rising competition from grocery store chains like Walmart (WMT) and Kroger (KR), there are fewer chances that antitrust would completely blow up the deal. It might ask the combined company to shed some of its stores, especially in the areas where the stores have a common presence. Walgreens' management is open to shedding around 1,000 stores in order to win regulatory approval.
ETF exposure
Walgreens Boots Alliance, Walmart, Target, and Kroger are included in the SPDR S&P 500 ETF (SPY). Together, they account for 1.4% of SPY.