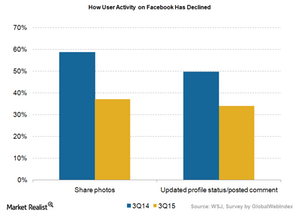 Are Facebook Users Becoming Less Active?
By Puneet Sikka

Nov. 30 2015, Updated 9:06 a.m. ET
Fewer users share their photos or update their statuses on Facebook
Facebook (FB) has done well in growing its user base. Facebook's worldwide monthly active users (or MAU) have grown from 1.35 billion in 3Q14 to 1.55 billion in 3Q15, a growth rate of 15%. Twitter's (TWTR) MAUs increased from 287 million to 320 million during the same period. This is a mere 11% growth for Twitter despite its having a smaller user base.
The worry now for Facebook is to stop declining activity from its users. User activity on Facebook is users either updating their statuses, sharing their photos, clicking on the "like" button, sending a message to a friend, or commenting on a photo or profile status.
Article continues below advertisement
We can understand this decline from a Wall Street Journal report that cites a survey of 40,000 Facebook users conducted by GlobalWebIndex. According to the report, and as the chart below shows, only 37% of Facebook users shared their photos and 34% of users updated their status or posted a comment in 3Q15 compared to 59% and 50%, respectively, in 3Q14.
User engagement is an important parameter for Internet companies
User engagement is important for all Internet companies, including Google (GOOGL), Yahoo (YHOO), and LinkedIn (LNKD). The more time users spend on companies' Internet platforms, the higher the chances of users clicking on ads. The more ad clicks, the better the monetization opportunity for these companies.
Another advantage that Facebook gets from increasing user activity is that it provides the company with more insights into users' interests. Understanding user interest is important for Facebook, as it helps the company provide relevant ads to its users. These ads have a higher chance of getting clicks, as they're more relevant to users.
For diversified exposure to Facebook, you could invest in the Technology Select Sector SPDR (XLK), which invests about 5.4% of its holdings in Facebook.