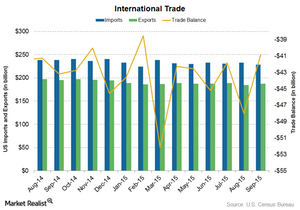 US Trade Deficit Fell due to Surge in September Exports
With exports rising and imports declining, the trade deficit fell in September
The trade sector accounts for about 23.2% of the US GDP, and it plays an important role in the overall economic growth of the country. According to the US Census Bureau, the goods and services deficit was $40.8 billion in September, down $7.2 billion from a revised $48.0 billion in August. September imports and exports stood at $228.7 billion and $187.9 billion, respectively. Though trade deficit has seen a decline in September, the SPDR S&P 500 ETF (SPY) and the Direxion Daily S&P 500 Bull 3X ETF (SPXL) lost 0.30% and 0.83%, respectively, as of November 4.
Article continues below advertisement
Imports of goods and services
Imports get cheaper for Americans with the strengthening of the dollar. However, for the month of September, imports have fallen by $4.3 billion, mainly due to a decline in industrial supplies and materials to the extent of $1.6 billion. Even demand for capital goods fell due to a decrease in orders for civilian aircraft to the tune of $0.6 billion. Declining crude prices have decreased the import bills on crude by $1.3 billion.
Over the past month, aerospace and defense stocks General Dynamics (GD), Northrop Grumman (NOC), and Boeing (BA) were up 2.2%, 9.3%, and 10.6%, respectively, as of November 4.
Exports of goods and services
An increase in exports of consumer goods by $1.3 billion helped the increase of exports in September. Even the export of capital goods saw a $0.9 billion surge. Also, financial services and traveling have further aided exports of services, which increased by $0.1 billion to $60.6 billion in September. Over the past month, industrial stocks like Rockwell Automation (ROK) and Jacobs Engineering Group (JEC) rose 8.8% and 6.1%, respectively, as of November 4.
The strong dollar impacted US foreign trade. However, a decline in trade deficit indicates that businesses are adjusting to the appreciating dollar. A decline in the deficit from China and the European Union in September highlights this trend. With exports picking up in the US, let's look at how service sectors are contributing towards overall growth in the next article.