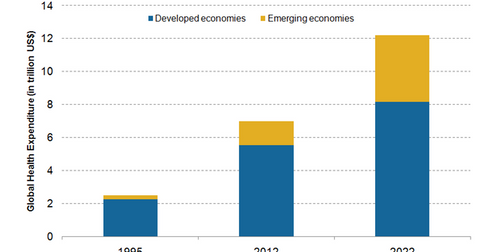 How Is the US Medical Device Industry Performing in Emerging Markets?
By Sarah Collins

Updated
Medical device market
As per the U.S. Department of Commerce, US medical device exports were worth $45 billion against the medical device industry's global market value of $340 billion in 2014. The US, Japan, and Europe are the largest markets but are largely saturated with annual growth rates of 3%-5%. Thus, developing countries provide potential markets for the US medical device companies to drive future growth.
Article continues below advertisement
Opportunities
Emerging markets provide access to a large, underserved population growing at a steady pace. Increasing diseases, an aging population, enhanced health awareness, and rising income levels are primary drivers in these markets.
Brazil is one emerging market with tremendous opportunities for export. US medical devices constitute 30% of the total medical devices imported into Brazil. Brazil also has a huge market for home products. Besides, the Brazilian government has been spending a significant amount on healthcare services in the country.
According to a report by the China Association of Medical Device Industry, China's medical device market has been growing at 20% annually since 2009 and is projected to reach over $48 billion by the end of 2015. US medical devices are highly valued and considered to be the most reliable in China, thus providing the potential for premium pricing.
The medical device industry in India was valued at $4.2 billion in 2014 and is projected to grow at a compound annual growth rate (or CAGR) of 16% from 2014-2018, according to a report published in 2015 by the Federation of the Indian Chambers of Commerce and Industry. Foreign direct investment (or FDI) inflows in the healthcare market have also seen a steady increase, as FDI laws have been liberalized. With strong technology and telecom infrastructure available, telemedicine is becoming one of the promising segments.
Article continues below advertisement
Challenges
Different regulatory requirements in different countries put price pressures on medical device companies. Reduced reimbursement rates, price limits, and high tariffs established by some countries impact the sales potential of medical device products. The violation of intellectual property rights is one of the other factors that puts pressure on the economic feasibility of medical device companies exporting to other countries.
Medtronic (MDT) generates around 12% of its revenues from exports, and almost half of Abbott Laboratories' (ABT) revenues come from developing countries. Some of the other US medical device companies that are actively pursuing business opportunities in emerging markets are Johnson & Johnson (JNJ) and Stryker (SYK). The iShares U.S. Medical Devices ETF (IHI) is one of the major ETFs with exposure to the U.S. medical device industry.