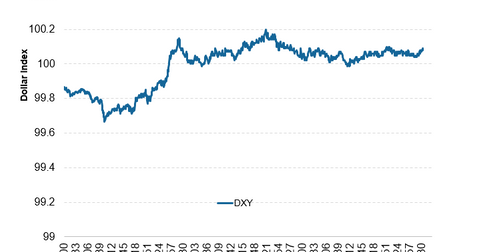 US Dollar Index Continues Gains after Holiday
By David Meyer

Updated
US dollar index closes above 100
The US dollar index, measuring the strength of the US dollar against the major currencies, continued the bull run on the cues of a possible interest rate hike by the Fed on December. The US dollar index went to a high of 100.20, its highest level in nearly eight months. The bull run for the week was led by the Unemployment claims and the durable goods data that came out on a positive note. The index closed at 100.02 on November 27, 2015 . The week starting November 30 will have major data coming out for the US dollar in the form of the non-farm payroll and the purchasing managers' index.
Article continues below advertisement
Factors that contributed to the weekly gain
The major factors contributing to the gain in the US dollar index was weakness in the basket of currencies comprising the index. The pound sterling fell as the United Kingdom's GDP growth slowed in the third quarter. On the other hand, speculations of a rise in the stimulus program by the ECB's (European Central Bank) Chief Mario Draghi is expected on December 3, 2015. The FOMC's[1. Federal Open Market Committee, part of the Federal Reserve] monetary policy has been extending its divergence with the ECB, further causing weakness in the euro and contributing to a rise in the US dollar index. Asian markets have also been trading on a weak note following tensions in the Middle East, assisting the upward movement in the US dollar index.
Impact on the market
Regarding the ETFs, the PowerShares DB US Dollar Bullish ETF (UUP) rose by 0.15% on November 27, 2015. Also, the WisdomTree Bloomberg US Dollar Bullish Fund ETF (USDU), encompassing developed economies as well as emerging market currencies, rose by 0.41%.
Banking stocks were trading on a positive note on November 27, 2015. JPMorgan Chase (JPM) rose by 0.46% while Citigroup (C) rose by 0.24%. Wells Fargo (WFC) also followed a similar trajectory and ended higher by 0.31% for the day.